Pat Millas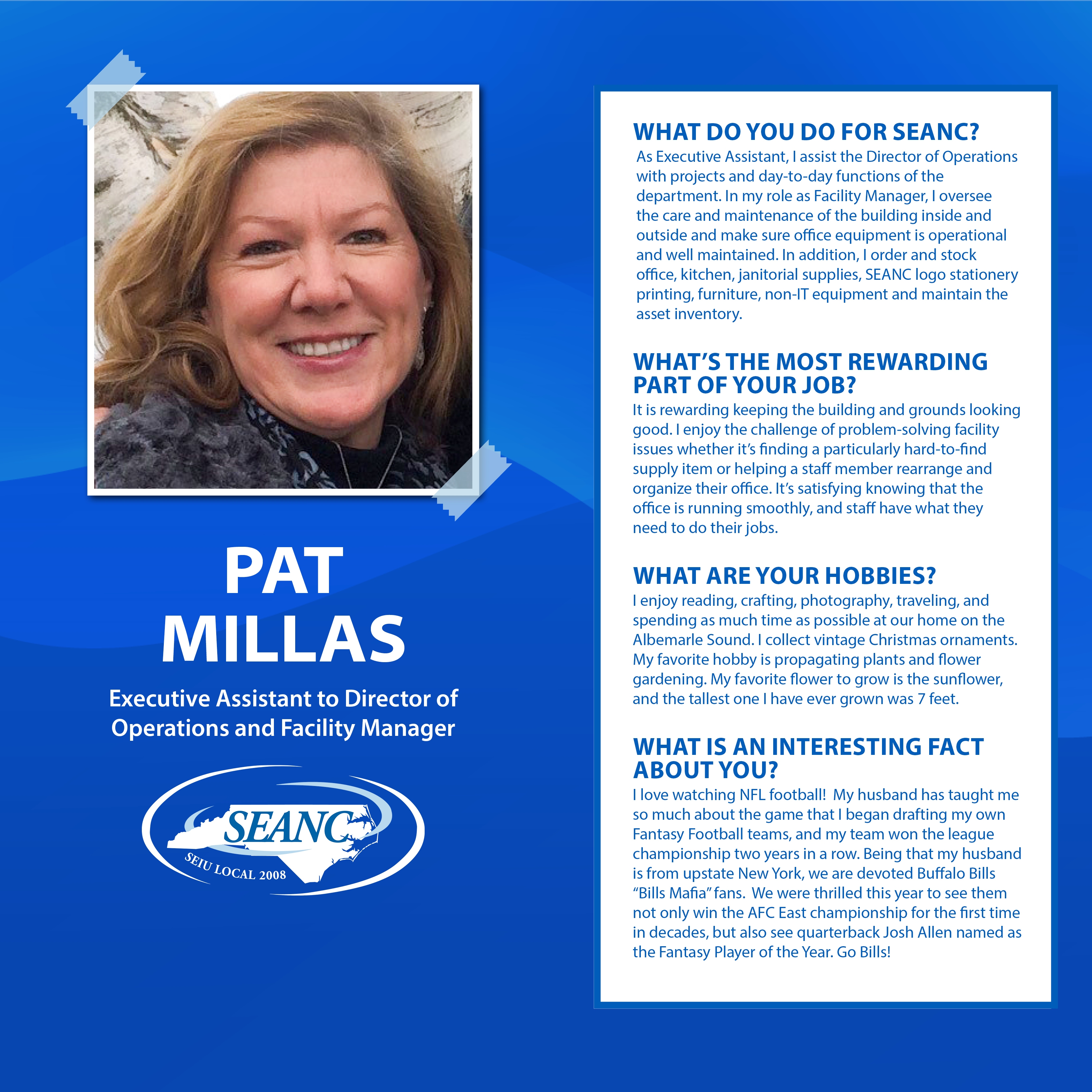 Pat Millas
Executive Assistant to Director of Operations and Facility Manager
What do you do for SEANC? As Executive Assistant, I assist the Director of Operations with projects and day-to-day functions of the department. In my role as Facility Manager, I oversee the care and maintenance of the building inside and outside and make sure office equipment is operational and well maintained. In addition, I order and stock office, kitchen, janitorial supplies, SEANC logo stationery printing, furniture, non-IT equipment and maintain the asset inventory.
How long have you worked at SEANC? Almost 20 years - I began working with SEANC on April 17, 2001.
What's the most rewarding part of your job? It is rewarding keeping the building and grounds looking good. I enjoy the challenge of problem-solving facility issues whether it's finding a particularly hard-to-find supply item or helping a staff member rearrange and organize their office. It's satisfying knowing that the office is running smoothly, and staff have what they need to do their jobs.
Were you a member prior to joining the staff? If so, where did you work? I was a member many years ago before coming to work at SEANC. Previous to SEANC, I worked with North Carolina state agencies Department of Justice, Department of Natural Resources/Geological Survey, and the Department of Labor/Wage and Hour.
Tell us about your family: I have been married for 7 years to my husband, John. I have one daughter, Marisa, who lives in New Bern and is engaged to her fiancé Rob. I have two stepdaughters and three step-grandchildren who live in upstate New York. And last but not least, I have a 3-year-old mini dachshund named Buddy who is very loved, very spoiled, and runs the household.
What are your hobbies? I enjoy reading, crafting, photography, traveling, and spending as much time as possible at our home on the Albemarle Sound. I collect vintage Christmas ornaments. My favorite hobby is propagating plants and flower gardening. My favorite flower to grow is the sunflower, and the tallest one I have ever grown was 7 feet.
What is an interesting fact about you that people should know? I love watching NFL football! My husband has taught me so much about the game that I began drafting my own Fantasy Football teams, and my team won the league championship two years in a row. Being that my husband is from upstate New York, we are devoted Buffalo Bills "Bills Mafia" fans. We were thrilled this year to see them not only win the AFC East championship for the first time in decades, but also see quarterback Josh Allen named as the Fantasy Player of the Year. Go Bills!