Welcome to the State Employees Association of North Carolina!
SEANC works for hardworking state employees and retirees who dedicated their careers to the state.
Mission Statement
SEANC is committed to protecting and enhancing the rights and benefits of current, retired and future state employees.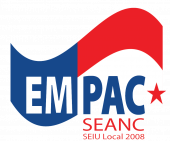 Through our legislative efforts, the Employees Political Action Committee and grassroots efforts by you, the member, we work hard to protect and improve your benefits like pay, health care, retirement security and workplace rights. Click here to invest in EMPAC!