Scholarship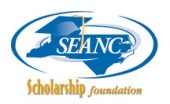 Your Scholarship Program
One of the outstanding benefits of SEANC membership is its scholarship program for active and associate members, their spouses and dependent children.
Membership in teachers' organizations or the State Employees' Credit Union (SECU) does not constitute eligibility for a SEANC Foundation scholarship. However, state and local government employees and retirees and state university system scholarship athletes are eligible to join SEANC if they so desire.
Find out more about the criteria from the SEANC scholarship brochure.
Scholarships for the 2018-19 school year will be available January 1, 2018.

Donate
Each year the endowment of the popular SEANC scholarship program grows, primarily through SEANC state and district-level fundraising events and individual donations. If you would like to make a tax-deductible donation to the SEANC Scholarship Foundation, please fill out the contribution form today or give through the State Employees Combined Campaign (designate 1563).
Policy, Procedures and Bylaws
More Information
Click on the links below to access contact information: