Pay for state employees, retirees at a crisis
Mar 10, 2017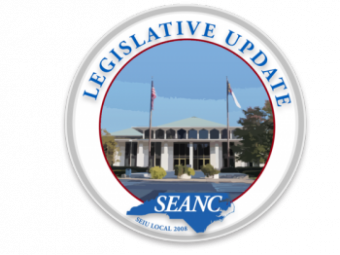 The N.C. Senate began publicizing small portions of its budget this week, particularly pertaining to education spending, but has yet to announce its plan for state employee raises or retiree cost-of-living adjustments.
If you'll recall, last week Gov. Roy Cooper announced his budget proposal that included a 2-percent or $800 pay raise and $500 bonus for state employees and a 1.5-percent one-time bonus for retirees.
One-in-three state employees make less than $31,000 a year. And more than a few of these employees have been with the state for decades and still haven't worked up to that salary.
With one of the largest budget surpluses in years, lawmakers have a chance to confront this crisis in a meaningful way. State employees and retirees deserve the dignity that comes with a respectable paycheck for an honest day's work. The state of North Carolina should not have employees who are paid so little that they qualify for food stamps.
We are also asking for a 2-percent cost-of-living adjustment for our retirees this year. Retirees gave decades of service and 6 percent of their paycheck each month to build the retirement system. In recent years, only Wall Street has profited from retirees' hard work, and that is wrong.

Certainly, some legislators may have other priorities like cutting taxes or socking away the surplus in reserves. But the truth is, it's time that the state steps up for working families and makes North Carolina the place where hard work pays off for everyone.
DOT privatization gets more scrutiny
Following up on a story last month about high costs associated with private contracts and the Department of Transportation, Rep. Frank Iler (R-Brunswick) requested information this week on the comparative cost of privatization over state employees for design and engineering services.
Rep. Iler made the request at a Joint Committee on Transportation Appropriations meeting Tuesday. Ironically, DOT says it is hiring a contractor to determine if contracting is profitable for the state. That's a lot like asking the fox if the hen house is secure.
Rep. Iler then indicated that he thought the state should hold off on privatization efforts until it could be proven that it saves money.
"Before we outsource, we don't have any proven statistics or facts to say that they can do it as efficiently and cheaper than the DOT workers are doing it," he said.
We agree with Rep. Iler, and hope he is successful in settling this debate once and for all. The truth is that state employees and retirees do a much better job at a better price for taxpayers than a profit-driven private company.
Join us for Lobby Day March 29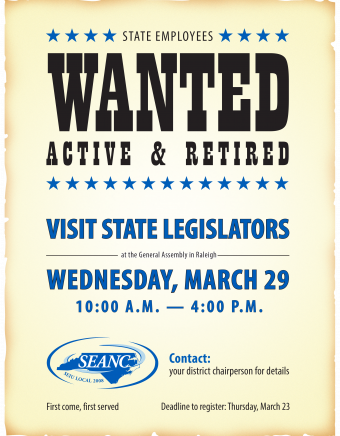 All members are invited to take part in a lobby day effort at the N.C. General Assembly from 10 a.m. to 4 p.m. on March 29. Members who attend will lobby legislators for better pay, health care and retirement benefits at a crucial time in the state budget process.

If you are interested in participating, contact your district chairperson to RSVP as soon as possible. Find your district chairperson here: https://www.seanc.org/district-chairpersons
If you can't come on March 29, please consider calling or emailing your legislator to tell them you deserve a raise or cost-of-living adjustment!