Small raises, bonuses in Gov. Cooper's first budget proposal
Mar 03, 2017
Gov. Roy Cooper unveiled his first state budget proposal for 2017-2019 on Wednesday that included a 2 percent or $800 salary increase (whichever is greater) for state employees, as well as a $500 one-time bonus and a one-time bonus of 1.5 percent for retirees instead of a cost-of-living adjustment.
Soon after the release, SEANC Executive Director Mitch Leonard sent an email to members giving his take on the proposal. The (Raleigh) News & Observer picked up on his comments and used them in their story on the announcement.
"Politicians on both sides of the aisle don't seem to realize that the situation is dire for our state employees and retirees who have been left behind by the economic rebound," Leonard was quoted as stating. "State employees and retirees have lost 10 percent of their buying power since 2010. One out of three state employees make less than $31,000 annually. They are struggling to make ends meet, working two or even three jobs just to feed their families."
Likewise, SEANC's lobbyists gave their take on the proposal in the video above.
The budget proposal also includes:
$18 million for the correctional officer pay increase plan
Full funding of step pay increases for clerks, magistrates and State Highway Patrol officers.
Funds for targeted increases to bring employees who have worked for the state for five years within 25% of the market value for their positions.
Full funding of the State Health Plan and Retirement System's actuarial requirements.
A provision to allow law enforcement officers to retire after 25 years of service (now 30 years)
$150 million to address retiree health care liabilities
Going forward in this budget process, we will work with Gov. Cooper and the legislature to provide meaningful increases to our dedicated state employees and retirees.
SEANC launches Engage program
SEANC has launched a new website and online initiative aimed at increasing member involvement and education. Visit engage.seanc.org to stay informed on the latest news out of SEANC, state government, the N.C. General Assembly and more.
Members can also use the site to easily find their legislators and take action by contacting them by phone or email. You can also use the site to look up bills SEANC is watching and keep tabs on your legislators' votes.
But the most exciting part of Engage is its outreach features. When a pressing issue comes up at the General Assembly, we will be able to mobilize our members quickly and easily. We can send alerts by email that will include links to allow members to send emails to their legislators with a click of the button.
Lobby day set for March 29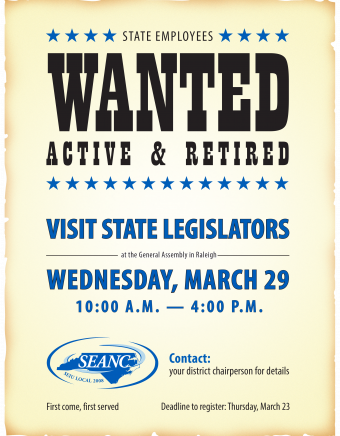 All members are invited to take part in a lobby day effort at the N.C. General Assembly from 10 a.m. to 4 p.m. on March 29. Members who attend will lobby legislators for better pay, health care and retirement benefits at a crucial time in the state budget process.
If you are interested in participating, contact your district chairperson to RSVP as soon as possible.
If you can't come on March 29, please consider calling or emailing your legislator to tell them you deserve a raise or cost-of-living adjustment!