Senate considers bill on retirement changes, will release budget next week
May 05, 2017
SEANC spoke out this week against an attempt to weaken the state retirement system by moving all new hires to a 401k plan and doing away with retiree health care coverage for anyone hired after July 1, 2018.
Sold as an attempt to deal with the unfunded liabilities facing the retirement system and State Health Plan, Senate Bill 467 would essentially start the process of eliminating the Defined Benefit plan favor of a Defined Contribution plan.
This would hurt the state's efforts to recruit and retain new employees. It would also affect current retirees because the current system depends on the contributions of younger employees to remain in good standing and pay benefits. N.C. Policy Watch also laid out other issues with the bill here.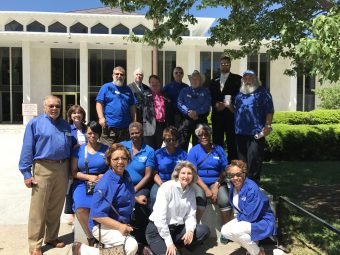 With SEANC retirees in full force in the audience at Wednesday's Senate Pensions and Retirement Committee meeting (it just so happened to be Retiree Lobby Day!), the committee leaders decided not to hold a vote on the bill. Thanks to Sen. Rick Horner (R-Johnston) and Sen. Jay Chaudhuri (D-Wake) for asking the tough questions that need answers in the meeting as well.
Click here to watch this week's Legislative Update, where SEANC Government Relations Director Ardis Watkins and Retiree Council Chairman Benny Brigman lay out the issue in more detail.
Senate budget to be released next week
The Senate is expected to release its budget next week and push it quickly through to a vote. Senate Leader Phil Berger (R-Rockingham) told The Associated Press Thursday that he expects to unveil the spending plan on Monday or Tuesday, with votes on the floor by Thursday.
House and Senate leaders have held ongoing meetings on the budget already, and likely have agreed on many parts of it, meaning the process will likely move quickly through the House as well. Then it will be up to Gov. Roy Cooper to sign or veto it.
Now it is more important than ever for you to contact your legislators to tell them to support true pay raises for state employees and cost-of-living adjustments for retirees. You can click here to look up all of your elected officials using your address. Then scroll down to click on your state senator and representatives.
When the budget is released, look for an email from SEANC with a summary of how it affects state employees and retirees as well as more ways to take action!
DPS employees lay one of their own to rest
Law enforcement officers and DPS employees from all over the state gathered to pay respects Thursday as Sgt. Meggan Callahan was laid to rest in Edenton. Sgt. Callahan was a member of SEANC District 63. SEANC President Stanley Drewery, a retired DPS employee himself, attended the funeral, and said he "was really proud of my brothers and sisters coming from all over the state to honor one of our own."
The Department of Public Safety reports that Sgt. Callahan was the first correctional officer to die in the line of duty in at least 40 years. But that doesn't mean DPS employees don't face dangers every day. The Charlotte Observer reports that a correctional officer is assaulted approximately once every eight hours in this state, and there were 1,160 assaults on prison staff in 2016.
"As a former DPS employee myself, I know the dangers facing our brave men and women in the Department of Public Safety firsthan," Pres. Drewery said. "My heart goes out to the family, friends and coworkers of Sgt. Callahan. And to all the DPS employees in the state, know that SEANC has your back and is working for you!"
SEANC continues to collect donations for the Sgt. Callahan Memorial Fund. All proceeds go to Sgt. Callahan's family. If you would like to contribute, click here. You can also mail checks, payable to SEANC with "Sgt. Callahan Memorial Fund" in the memo line, to:
SEANC
Sgt. Callahan Memorial Fund
1621 Midtown Place
Raleigh, NC 27609