SEANC to Co-Host Virtual Town Hall Opposing Wilmington Hospital Sale
Jun 24, 2020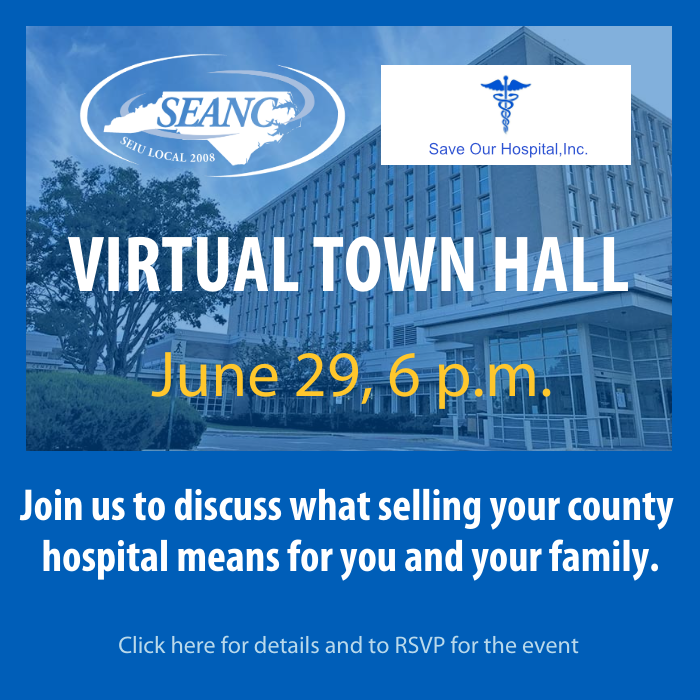 RALEIGH – The State Employees Association of North Carolina (SEANC), announced today it will co-host a virtual town hall with Wilmington-based group, Save Our Hospital to discuss the proposed sale of New Hanover Regional Medical Center.
The virtual town hall will take place on Monday, June 29, and begin at 6 p.m.
SEANC opposes the sale of New Hanover Regional Medical Center (NHRMC) on behalf of the 42,000 State Health Plan members who stand to be have their access limited and costs raised as a result of this sale.
"New Hanover Regional Medical Center had the opportunity to do the right thing by State Health Plan members by ensuring fair and transparent prices for services by signing on to the Clear Pricing Project," said SEANC Executive Director Ardis Watkins.
"Since then, they have made no secret that they would have actually made money from the deal but opted for secrecy instead. Now, they are trying to railroad a sale in the middle of a pandemic through a process that has been shrouded in secrecy. We look forward to creating a space for the public to finally be heard."
Registration and future event details can be found at seanc.org/virtual-town-hall-registration.