Legislature approves budget with pay raises, COLAs for retirees
Jun 28, 2017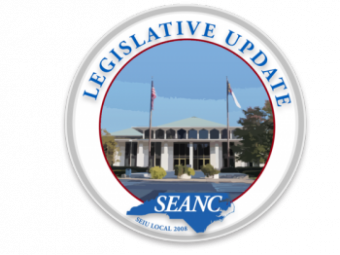 \
The House and Senate passed a compromise budget in late June that includes a $1,000 pay increase for state employees and a 1-percent true cost-of-living adjustment for retirees.
The $1,000 increase and 1-percent true COLA are steps in the right direction, but we know they will not alleviate the strain put on state employees and retirees who have lost 10 percent of their buying power since 2010. We will continue to press upon legislators this fact.
Flat-rate pay increases have a greater impact on lower-paid workers' lives than percentage raises. The $1,000 base pay raise equates to an increase of around 2.2 percent of the current average state salary of $45,505. For a worker making $30,000 per year, it equates to a raise of more than 3.3 percent.
The budget also includes three days of bonus vacation leave for state employees. These are valid throughout the worker's continuous employment with the state. They have no value, meaning they cannot be cashed in or paid out at retirement.
The budget took effect with the start of the 2017-18 fiscal year on July 1. Members will see the increase in paychecks beginning in late July.
The House had proposed a $1,000 pay raise in its budget, while the Senate had proposed a $750 increase. Gov. Roy Cooper proposed an $800 pay increase and a $500 bonus. The House also added in five bonus days in its proposal.
The true COLA was a welcome surprise for state retirees given that the House's proposal included a 1.6-percent one-time bonus and the Senate's proposal had nothing at all for retirees. A true COLA is better than a one-time bonus for retirees because it increases their pension checks for years to come.
The budget also includes step increases for State Highway Patrol, clerks and magistrates, funds for a total compensation study for state employees and full funding of the state retirement system and State Health Plan.
Another provision will end health care coverage at retirement for all new hires after 2021, which will make working for the state even less enticing for the best and brightest in the state.
The House and Senate passed the budget proposal with little debate. Gov. Roy Cooper vetoed it, but the Republicans own veto-proof majorities in both the House and Senate. His veto is largely a symbolic gesture.
The final budget includes:
A base pay increase of $1,000 for state employees
Three additional bonus leave days for employees
1-percent true cost-of-living adjustment (COLA) for retirees
Step-movement for State Highway Patrol, clerks and magistrates
$18.4 million to complete the third and final phase of custody-level pay adjustments for correctional officers, custody supervisors and prison administrators
Increased salaries for teachers averaging 3.3 percent, and raises for principals and assistant principals
A provision to end health care coverage at retirement for future hires who start after January, 2021
The creation of a study of state employee total compensation
Full funding of the state retirement system and State Health Plan