Budget passes with small raise, bonuses; General Assembly close to wrapping up
Jul 01, 2016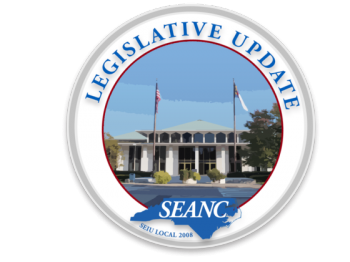 The 2016 short session of the General Assembly is all but complete. After agreeing to state budget adjustments for the coming year, Senate leaders offered an adjournment resolution for Saturday. The Senate passed the budget with little fanfare on Wednesday, while the House planned its final vote on Friday and will likely consider the adjournment resolution as well.

As we addressed on Tuesday, the compromise on the state budget stopped woefully short of fully addressing the needs of both state employees and retirees. It includes a 1.5-percent salary increase for all state employees along with a .5-percent one-time bonus. Another $80 million has been set aside for targeted merit one-time bonuses, which equals around 1 percent of salaries as well.
The average state employee pay according to the Office of State Human Resources is $39,824, meaning the average state employee will receive a pay increase of $597.36 before taxes and another $199.12 in bonus pay. When compared to the rising cost-of-living, along with increases to the employee costs associated with the State Health Plan, state employees are sure to have even less buying power next year than they did this year.
Legislators have also failed to lay out exactly how the merit bonuses will be awarded. The Senate budget left that decision up to agency heads, which usually means that their favorite employees get all the money and rank-and-file employees, who are hurting the most, get little to nothing.
Legislators decided to turn the House budget's much-needed 1.6-percent cost-of-living adjustment for retirees into a one-time bonus that will do nothing to combat the fact that retirees keep falling behind. Since 2010, retirees have lost 10.5-percent against the Consumer Price Index. Retirees will receive no recurring increase on their pension checks with this budget, which will only ensure that deficit will increase next year.
For the average retiree receiving $25,000 annually from the system, the bonus will amount to around $400, before taxes are taken out.
All of this is even more disheartening when you consider that Gov. McCrory asked for $500,000 of state money earmarked for emergency relief on Thursday to help him defend HB2, the controversial and largely unnecessary bill on bathrooms – that could have been used for raises and COLAs. Essentially, every state employee possibly gave up $5 to help him defend the bill.
As is usually the case in the waning days of a legislative session, SEANC lobbyists remained vigilant over attempts to move harmful bills with little debate that could have lasting negative impacts on state employees and retirees.
This year, it was House Bill 1134, the bill that would take away retiree's rights to have dues, insurance premiums and PAC donations deducted from their pension check, as well as set a minimum retirement age of 55 for all future employees.
If you'll recall, SEANC was able to change this bill in committee last month to remove the harmful provisions with the help of Rep. Pat Hurley (R-Randolph) and Rep. Jeff Elmore (R-Alleghany). It started to gain traction again this past week when it was moved from the House Appropriations Committee straight to the floor for a vote.
SEANC lobbyists talked to Rep. Nelson Dollar (R-Wake), who is the Chief Appropriations/Budget Writer, and House Rules Chairman Rep. David Lewis (R-Harnett), and successful had the bill moved back to the House Pensions & Retirement Committee, where we then negotiated with the chairmen Rep. Stephen Ross (R-Alamance) and Rep. Allen McNeill (R-Randolph) to have the language they wanted passed inserted into Senate Bill 886. The preferred committee substitute passed with unanimous support from the P&R Committee and passed on the House floor Thursday. It will be sent to the Senate for concurrence.
Had H1134 been revived and passed the House and was sent over to the Senate, the Senate could have re-inserted all of the harmful language retirees fought against in the original bill. Through the hard work of both the afore-mentioned legislators, members and lobbyists, retirees will not have their rights further infringed.