Jamie Robinson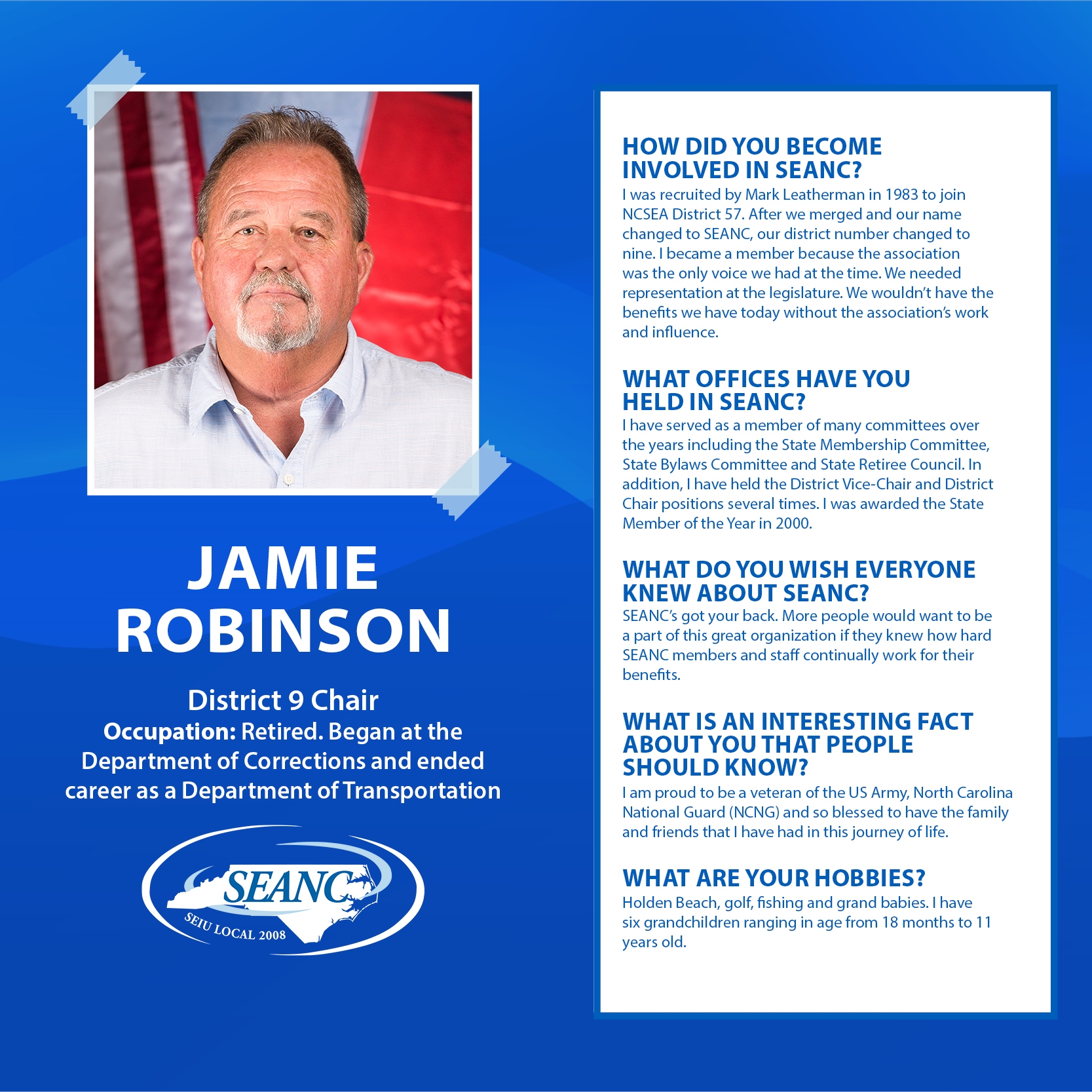 Jamie Robinson

District 9 Chair
Occupation: Retired. Began at the Department of Corrections and ended career as a Department of Transportation supervisor.
Counties: Alexander, Iredell, Catawba, Lincoln and Gaston
Q1: How did you become involved in SEANC? I was recruited by Mark Leatherman in 1983 to join NCSEA District 57. After we merged and our name changed to SEANC, our district number changed to nine. I became a member because the association was the only voice we had at the time. We needed representation at the legislature. We wouldn't have the benefits we have today without the association's work and influence.
Q2: What offices have you held in SEANC? I have served as a member of many committees over the years including the State Membership Committee, State Bylaws Committee and State Retiree Council. In addition, I have held the District Vice-Chair and District Chair positions several times. I was awarded the State Member of the Year in 2000.
Q3: What has been the most rewarding part of being active in SEANC? The people you meet, retiree forums, membership drives, legislative updates, EMPAC, lobbying at the legislature – it is all rewarding. I am proud to be a part of an association that represents all state agencies. That is what is so unique about SEANC.
Q4: What do you wish everyone knew about SEANC? SEANC's got your back. More people would want to be a part of this great organization if they knew how hard SEANC members and staff continually work for their benefits.
Q5: What are your hobbies? Holden Beach, golf, fishing and grand babies. I have six grandchildren ranging in age from 18 months to 11 years old.
Q6: Tell us about your family: My family includes my wonderful wife Amy, who is also a SEANC member, my two daughters and Amy's two sons and their beautiful families.
Q7: What is an interesting fact about you that people should know? I am proud to be a veteran of the US Army, North Carolina National Guard (NCNG) and so blessed to have the family and friends that I have had in this journey of life.