CJ Stephens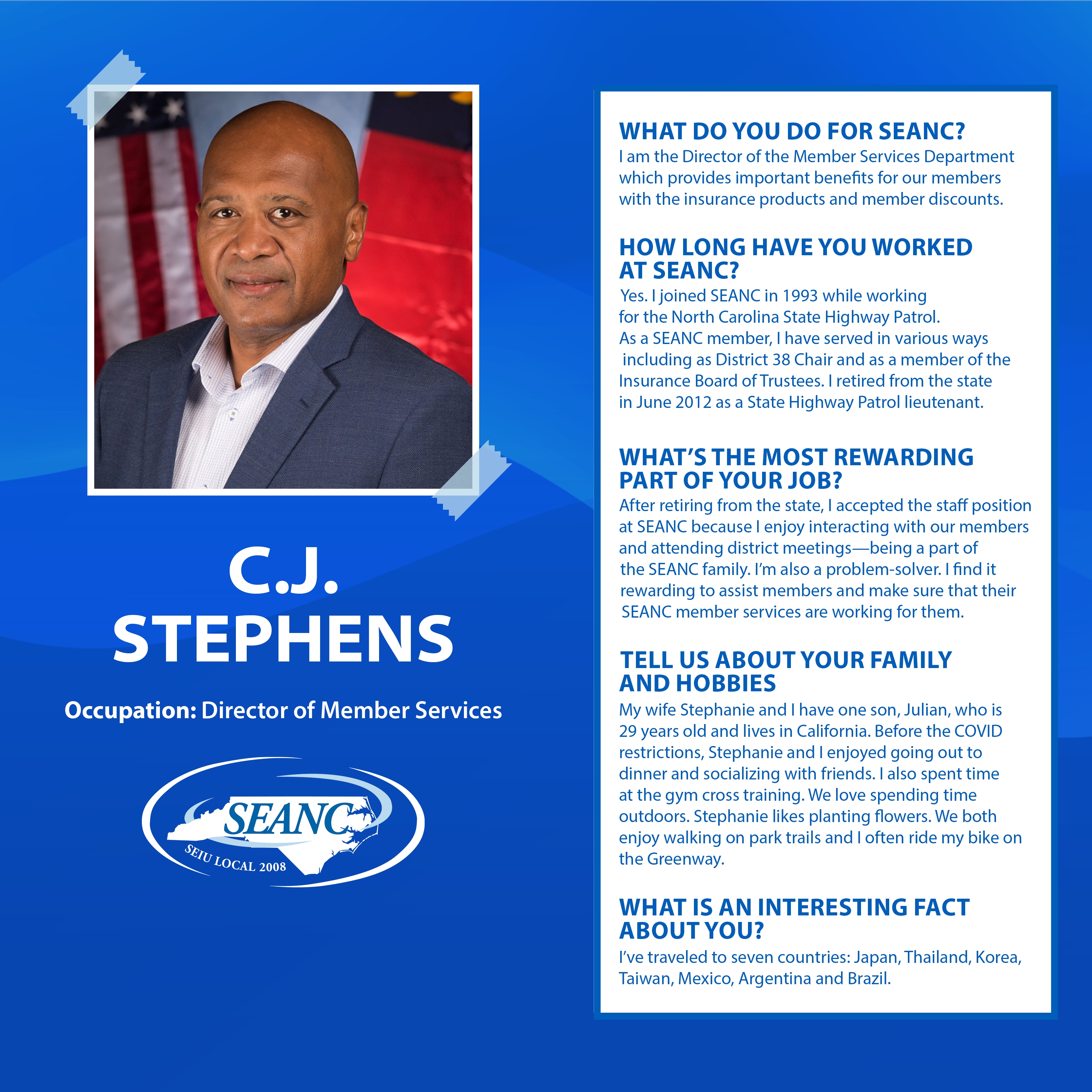 C.J. Stephens
Director of Member Services
District 38 member
What do you do for SEANC? I am the Director of the Member Services Department which provides important benefits for our members with the insurance products and member discounts.
Were you a member prior to joining the staff? If so, where did you work? Yes. I joined SEANC in 1993 while working for the North Carolina State Highway Patrol. As a SEANC member, I have served in various ways including as District 38 Chair and as a member of the Insurance Board of Trustees. I retired from the state in June 2012 as a State Highway Patrol lieutenant.
How long have you worked at SEANC? I became a SEANC employee in 2013. Over the last eight years, I have worked for SEANC as Member Strength Organizer, Member Relations Representative in the Raleigh and Piedmont area, and Member Relations Lead Representative. Now, my position is Director of Member Services.
What's the most rewarding part of your job? After retiring from the state, I accepted the staff position at SEANC because I enjoy interacting with our members and attending district meetings—being a part of the SEANC family. I'm also a problem-solver. I find it rewarding to assist members and make sure that their SEANC member services are working for them.
Tell us about your family and hobbies: My wife Stephanie and I have one son, Julian, who is 29 years old and lives in California. Before the COVID restrictions, Stephanie and I enjoyed going out to dinner and socializing with friends. I also spent time at the gym cross training. We love spending time outdoors. Stephanie likes planting flowers. We both enjoy walking on park trails and I often ride my bike on the Greenway.
What's an interesting fact about you? I've traveled to seven countries: Japan, Thailand, Korea, Taiwan, Mexico, Argentina and Brazil.