Virginia Lindsey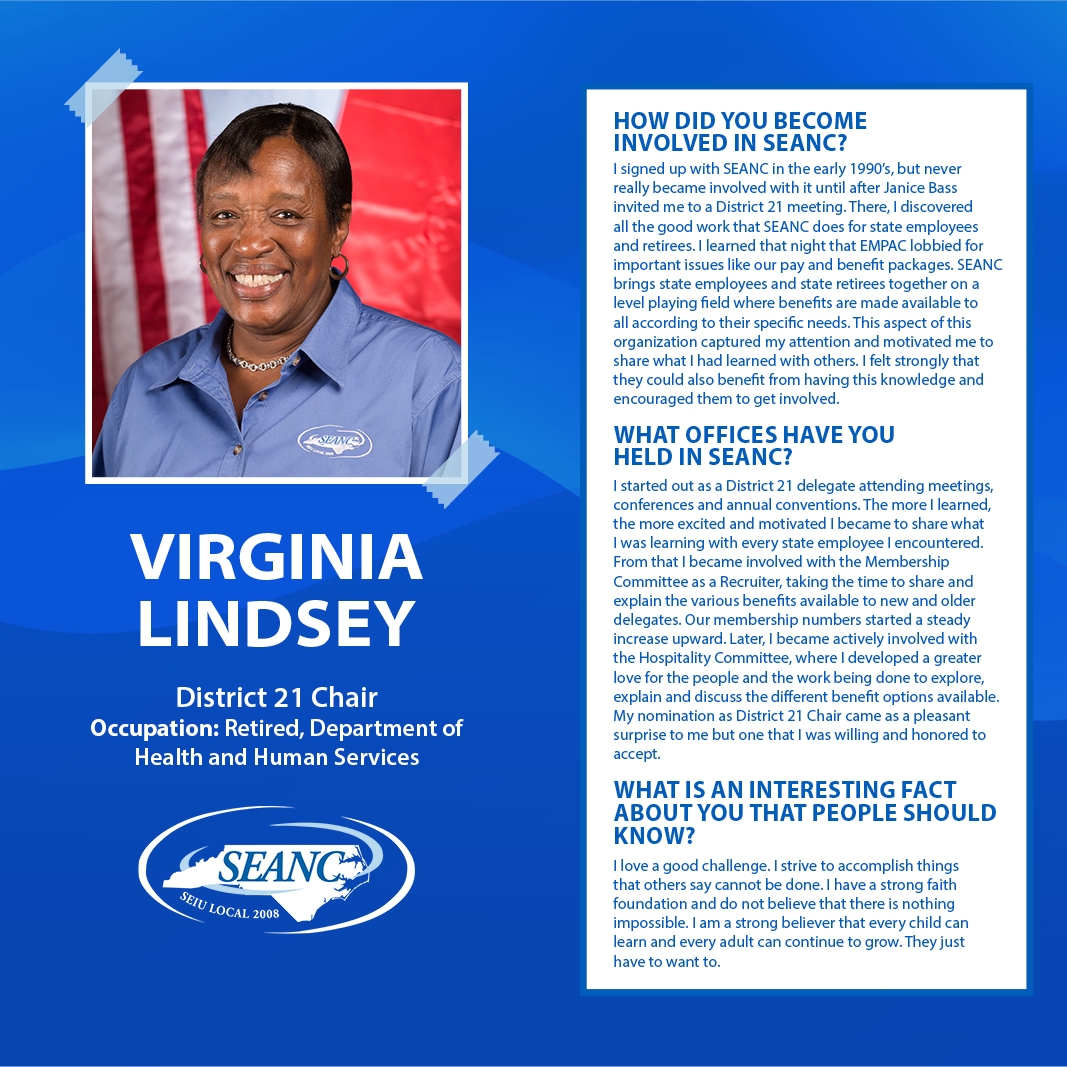 Virginia D. Lindsey
District 21
Occupation: Retired, Department of Health and Human Services
Counties: Granville, Franklin, Vance, Warren, Person
How did you become involved in SEANC? I signed up with SEANC in the early 1990's, but never really became involved with it until after Janice Bass invited me to a District 21 meeting. There, I discovered all the good work that SEANC was doing for state employees and retirees. I learned that night that EMPAC lobbied for important issues like our pay and benefit packages. SEANC brings state employees and state retirees together on a level playing field where benefits are made available to all according to their specific needs. This aspect of this organization captured my attention and motivated me to share what I had learned with others. I felt strongly that they could also benefit from having this knowledge and encouraged them to get involved.
What offices have you held in SEANC? I started out as a District 21 delegate attending more meetings, conferences and annual conventions. The more I learned, the more excited and motivated I became to share what I was learning with every state employee I encountered. From that I became involved with the Membership Committee as a Recruiter, taking the time to share and explain the various benefits available to new and older delegates. Our membership numbers started a steady increase upward. Later, I became actively involved with the Hospitality Committee, where I developed a greater love for the people and the work being done to explore, explain and discuss the different benefit options available. My nomination as District 21 Chair came as a pleasant surprise to me but one that I was willing and honored to accept.
What has been the most rewarding part of being active in SEANC? I enjoy helping people by introducing them to SEANC and hearing how they have used their membership benefits. As more people utilize the benefits, they tell others, and more people join the organization. It is very rewarding to see and be a part of something that actually works to help better the lives of those involved in it. If a member feels like they have a problem, they can rely on the SEANC staff and their fellow members for strong support and solid advice.
What do you wish everyone knew about SEANC? I wish everyone knew all of the amazing membership benefits and everything SEANC does for state employees and retirees at a legislative level. Non-members do not realize what they are missing.
What are your hobbies? I delight in bringing joy to other people. I am very active in my missionary work with senior citizens. I look forward to being able to entertain my family and friends again, host dinners, stay in shape on a dance floor and enjoy relaxing while reading a good book.
Tell us about your family: I come from a large family with five sisters and four brothers. We are a loving and close-knit family. I never married and never really had a desire to. God gifted me with an adopted son, Sean Michael, whom I had the pleasure of watching grow into a fine young man for 24 years. My mother was my everything. She was my best friend, my rock, and my mentor. I have amazing nieces and nephews who I lovingly admire and constantly encourage them to be the best that they can be.
What is an interesting fact about you that people should know? I love a good challenge. I strive to accomplish things that others say cannot be done. I have a strong faith foundation and do not believe that there is nothing impossible. I am a strong believer that every child can learn and every adult can continue to grow. They just have to want to.