Tony Smith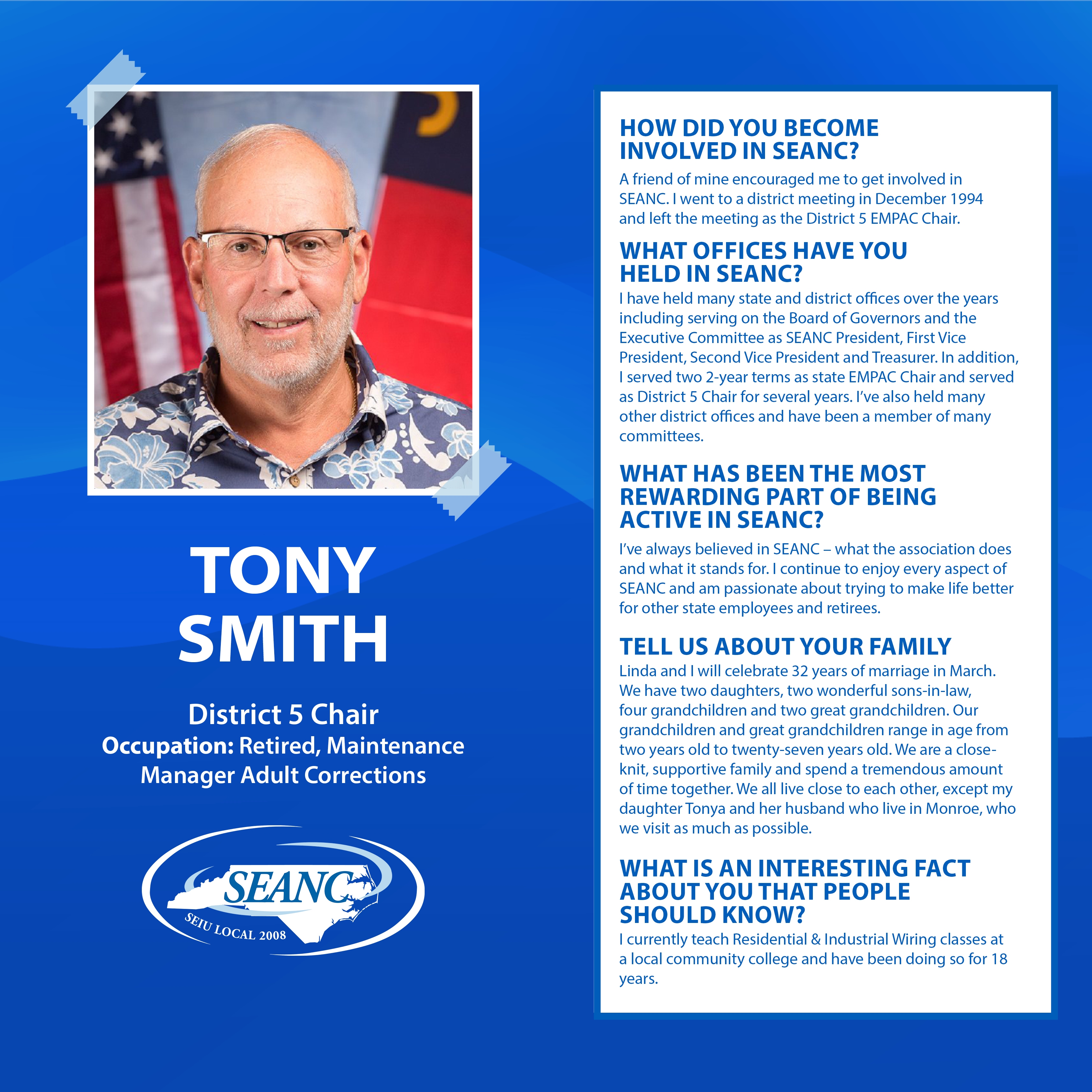 Tony E. Smith District 5 Chair
Occupation: Retired, Maintenance Manager Adult Corrections
Counties: McDowell, Burke, Caldwell
How did you become involved in SEANC? A friend of mine encouraged me to get involved in SEANC. I went to a district meeting in December 1994 and left the meeting as the District 5 EMPAC Chair.
What offices have you held in SEANC? I have held many state and district offices over the years including serving on the Board of Governors and the Executive Committee as SEANC President, First Vice President, Second Vice President and Treasurer. In addition, I served two 2-year terms as state EMPAC Chair and served as District 5 Chair for several years. I've also held many other district offices and have been a member of many committees.
What has been the most rewarding part of being active in SEANC? I've always believed in SEANC – what the association does and what it stands for. I continue to enjoy every aspect of SEANC and am passionate about trying to make life better for other state employees and retirees.
What do you wish everyone knew about SEANC? It's important for state employees and retirees to understand all that SEANC membership offers them. I frequently meet with them to share the many legislative accomplishments SEANC has achieved for them in the past. I tell them that SEANC's continued advocacy for state employees and retirees is the reason they have their current rights and benefits.
What are your hobbies? My wife Linda and I love RVing. We travel in our RV to the beach and mountains. We also keep the RV on a permanent spot that opens in April and closes in November. We enjoy traveling and relaxing together.
Tell us about your family: Linda and I will celebrate 32 years of marriage in March. We have two daughters, two wonderful sons-in-law, four grandchildren and two great grandchildren. Our grandchildren and great grandchildren range in age from 27 to two years old. We are a close-knit, supportive family and spend a tremendous amount of time together. We all live close to each other, except my daughter Tonya and her husband who live in Monroe, who we visit as much as possible.
What is an interesting fact about you that people should know? I currently teach Residential & Industrial Wiring classes at a local community college and have been doing so for 18 years.