Tonia Warnic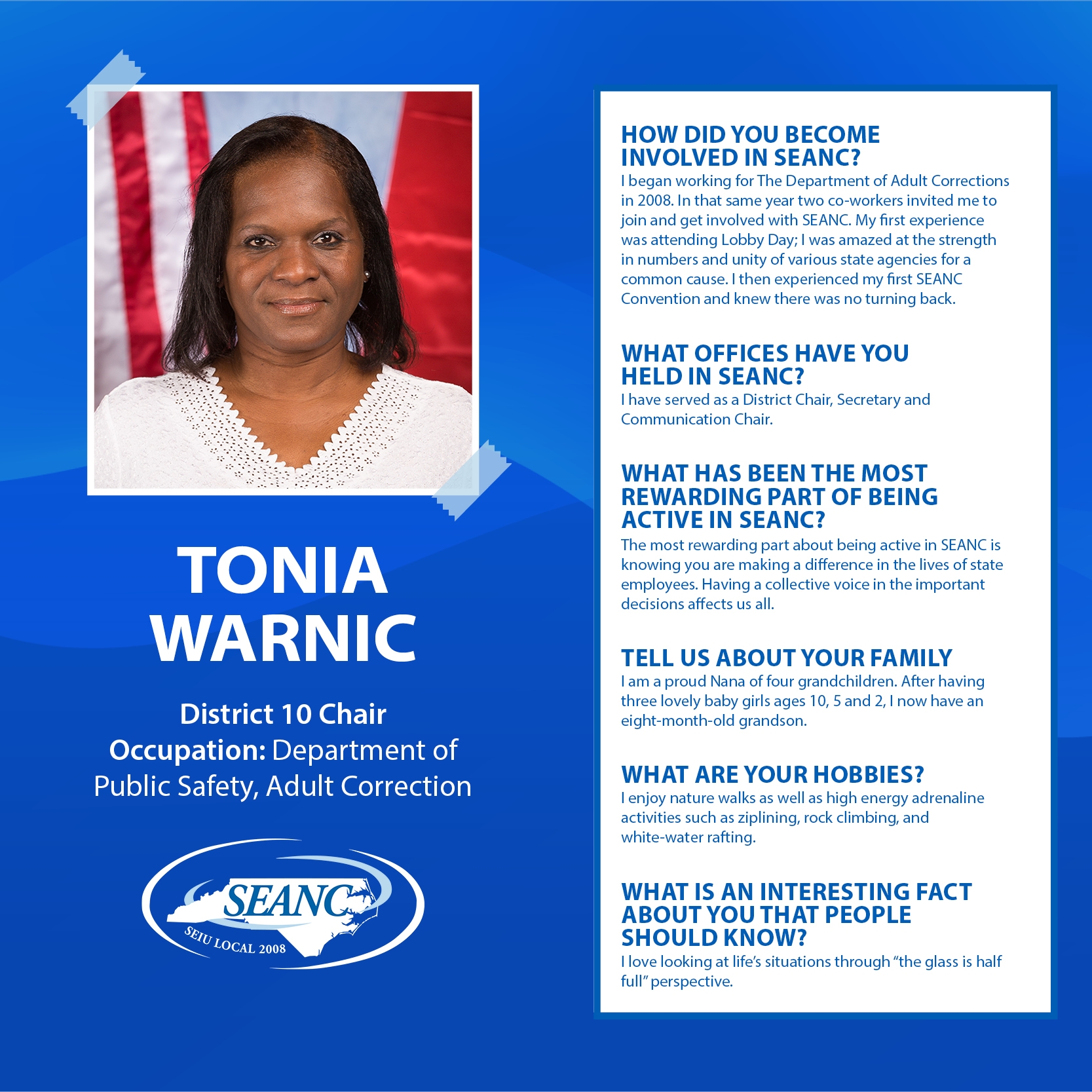 Tonia Warnic
District 10
Occupation: Department of Public Safety, Adult Correction
County: Rowan, Cabarrus, and Stanly County
How did you become involved in SEANC?
I began working for The Department of Adult Corrections in 2008. In that same year two co-workers invited me to join and get involved with SEANC. My first experience was attending Lobby Day; I was amazed at the strength in numbers and unity of various state agencies for a common cause. I then experienced my first SEANC Convention and knew there was no turning back.
What offices have you held in SEANC?
I have served as a District Chair, Secretary and Communication Chair.
What has been the most rewarding part of being active in SEANC?
The most rewarding part about being active in SEANC is knowing you are making a difference in the lives of state employees. Having a collective voice in the important decisions affects us all.
What do you wish everyone knew about SEANC?
SEANC has put the spotlight on those employees who put their lives on the line every day to keep the citizens of North Carolina safe and has advocated for us to maintain the benefits (i.e. Insurance, Perks Connect, Purchasing Power and so much more) that we currently receive by being a part of this great organization.
What are your hobbies?
I enjoy nature walks as well as high energy adrenaline activities such as ziplining, rock climbing, and white-water rafting.
Tell us about your family:
I am a proud Nana of four grandchildren. After having three lovely baby girls ages 10, 5 and 2, I now have an eight-month-old grandson.
What is an interesting fact about you that people should know?
I love looking at life's situations through "the glass is half full" perspective.