Tiffany Haldeman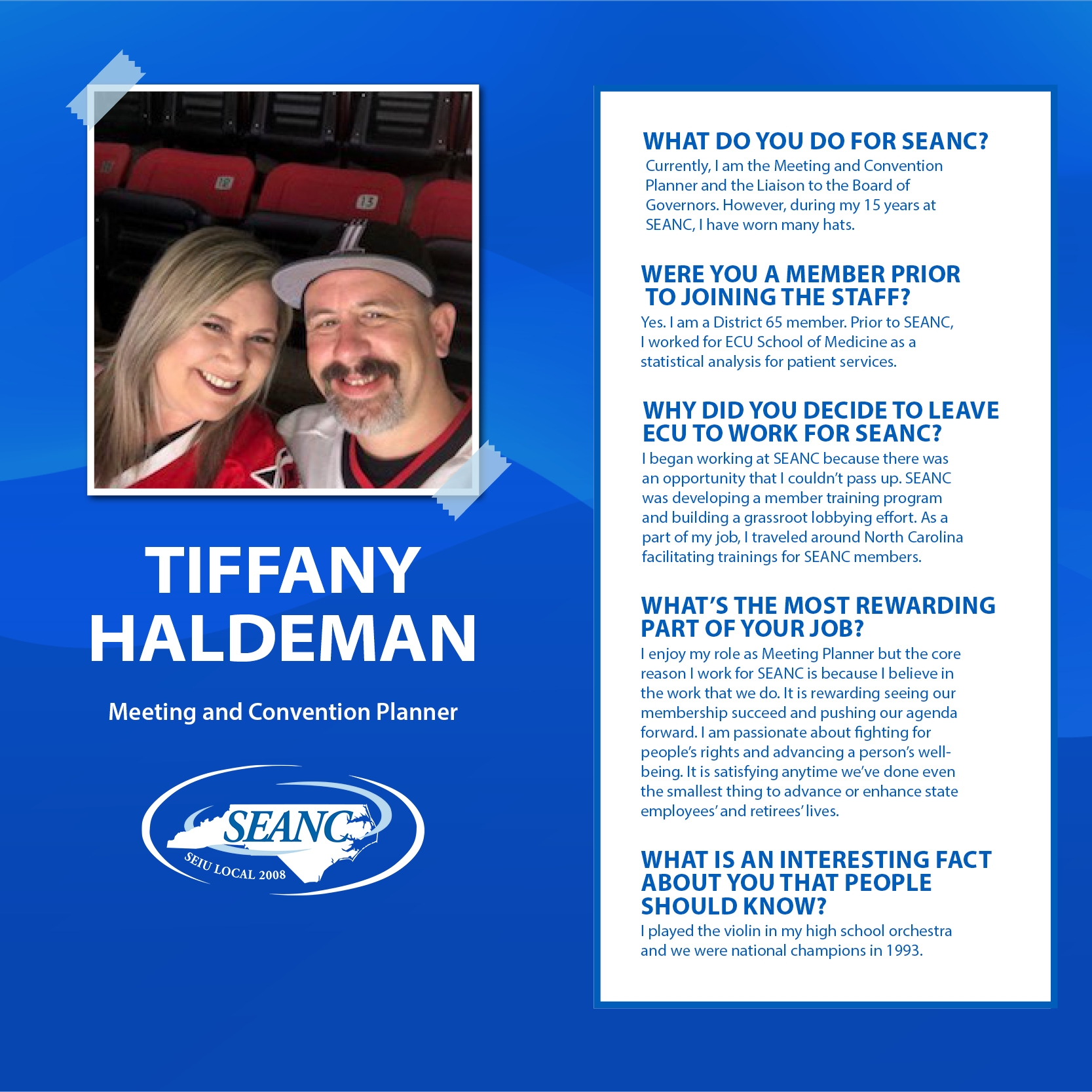 Tiffany Haldeman
Meeting and Convention Planner
Q1: What do you do for SEANC? Currently, I am the Meeting and Convention Planner and the Liaison to the Board of Governors. However, during my 15 years at SEANC, I have worn many hats.
Q2: Were you a member prior to joining the staff? Yes. I am a District 65 member. Prior to SEANC, I worked for ECU School of Medicine as a statistical analysis for patient services.
Q3: Why did you decide to leave ECU to work for SEANC? I began working at SEANC because there was an opportunity that I couldn't pass up. SEANC was developing a member training program and building a grassroot lobbying effort. As a part of my job, I traveled around North Carolina facilitating trainings for SEANC members.
Q3: What's the most rewarding part of your job? I enjoy my role as Meeting Planner but the core reason I work for SEANC is because I believe in the work that we do. It is rewarding seeing our membership succeed and pushing our agenda forward. I am passionate about fighting for people's rights and advancing a person's well-being. It is satisfying anytime we've done even the smallest thing to advance or enhance state employees' and retirees' lives.
Q4: Tell us about your family: I was married in March to my wonderful husband Matt. We originally had planned to marry in April at the beach with all our friends and family present. However, once the pandemic hit our area, we decided to get married immediately and had a small and intimate ceremony at a local courthouse. Together, we have three daughters ages 22, 18 and 12 (almost 13). We are blessed with a baby grandson and with a granddaughter on the way.
Q5: What are your hobbies? I love to crochet – especially baby blankets. On nice days, my husband and I enjoy riding our motorcycle out to dinner and on little trips. In addition, I love flowers. So, we (mostly Matt) are currently prepping our yard for a spring garden. We also enjoy going to Carolina Hurricanes games, and playing darts in the evenings before dinner.
Q6: What is an interesting fact about you that people should know? I played the violin in my high school orchestra and we were national champions in 1993.