Suzanne Beasley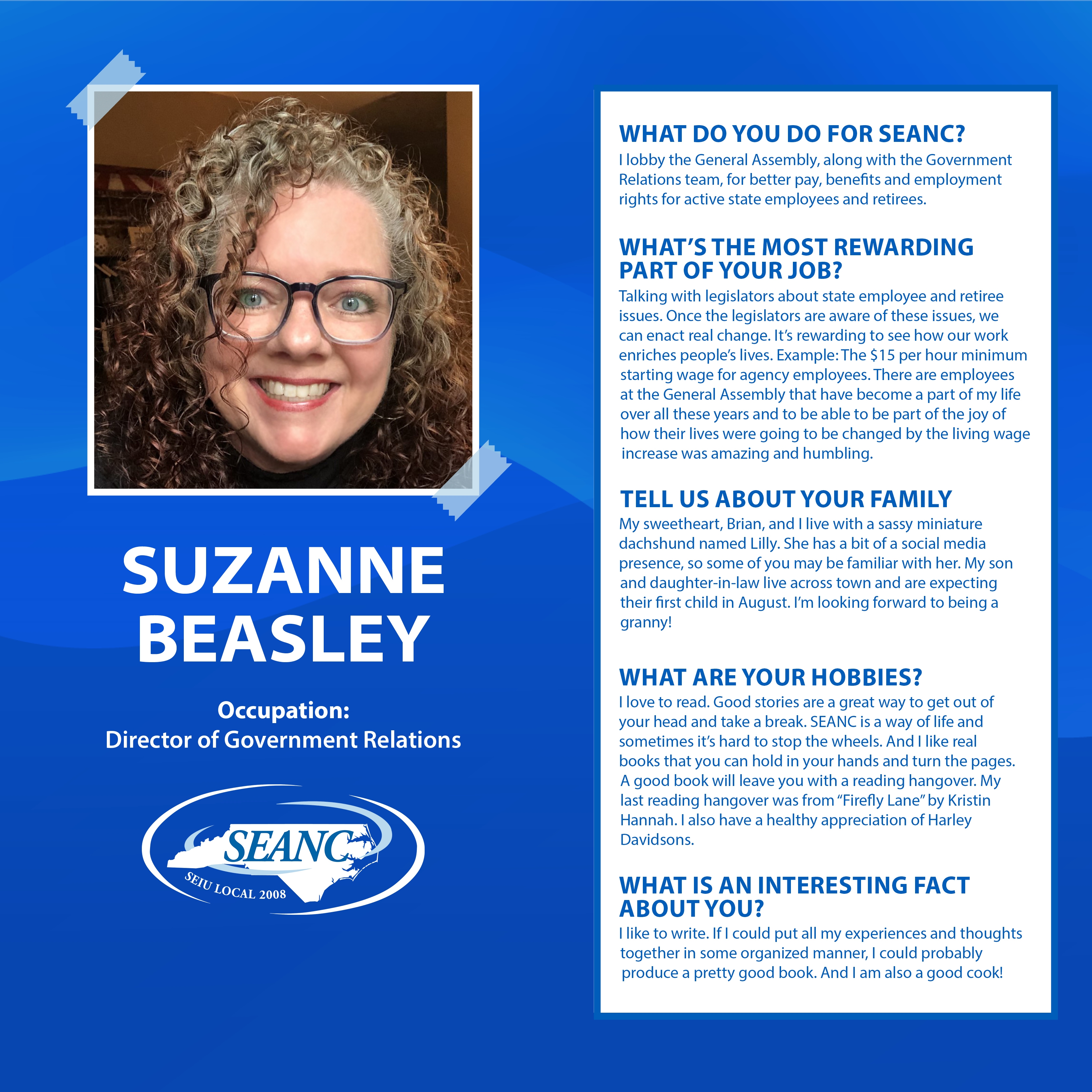 Suzanne Beasley
Director of Government Relations
What do you do for SEANC? I lobby the General Assembly, along with the Government Relations team, for better pay, benefits and employment rights for active state employees and retirees.
How long have you worked at SEANC? 18 years
What's the most rewarding part of your job? Talking with legislators about state employee and retiree issues. Once the legislators are aware of these issues, we can enact real change. It's rewarding to see how our work enriches people's lives. Example: The $15 per hour minimum starting wage for agency employees. There are employees at the General Assembly that have become a part of my life over all these years and to be able to be part of the joy of how their lives were going to be changed by the living wage increase was amazing and humbling.
Were you a member prior to joining the staff? No.
Tell us about your family: My sweetheart, Brian, and I live with a sassy miniature dachshund named Lilly. She has a bit of a social media presence, so some of you may be familiar with her. My son and daughter-in-law live across town and are expecting their first child in August. I'm looking forward to being a granny!
What are your hobbies? I love to read. Good stories are a great way to get out of your head and take a break. SEANC is a way of life and sometimes it's hard to stop the wheels. And I like real books that you can hold in your hands and turn the pages. A good book will leave you with a reading hangover. My last reading hangover was from "Firefly Lane" by Kristin Hannah. I also have a healthy appreciation of Harley Davidsons.
What is an interesting fact about you that people should know? I like to write. If I could put all my experiences and thoughts together in some organized manner, I could probably produce a pretty good book. And I am also a good cook!