Williams leads NCCash to record year when it's needed the most
Oct 08, 2021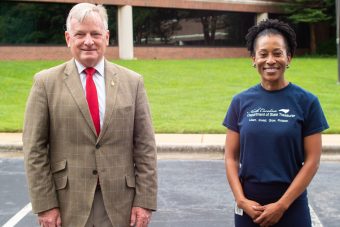 As a global pandemic raged in 2020 and uncertainty became the norm, District 44 member Brenda Williams was in the perfect business – the business of giving away money!

Williams, who served on the 2019-2021 SEANC Executive Committee as North Central Region Representative, has been Deputy Treasurer of the Unclaimed Property Division (UPD) in the State Treasurer's office since 2013. UPD is responsible for receiving, safeguarding, and distributing property that is turned over to the Treasurer's offices because the owner cannot be located. Sources of these funds can be everything from old bank accounts and contents of abandoned safe deposit boxes, to insurance policy proceeds and unclaimed rebates.
Last year, the department nearly doubled the amount of money it returned to citizens at a time when that money was needed the most. Preliminary, unaudited numbers show UPD paid out 125,134 claims in the fiscal year ending in June 2021, valued at $70,447,817. That represents a 120% increase in the number of claims paid and a 77% increase in the dollar amount.
"It's amazing what NCCash has accomplished over the past year," State Treasurer Dale R. Folwell, CPA said. "It is a testament to the great leadership of Brenda Williams and the hardworking employees in the Unclaimed Property Division. Let's remember that this incredible performance was done during a difficult time dealing with the challenges surrounding the pandemic."
Williams attributed the increase to several factors. First among them is the hard work of her staff – state employees who she said come to work every day with the mission to help people, even while facing their own challenges as some adjusted to working from home.
"It's great to lead a team of people who love what they do," Williams said. "I have to give them praise for their dedication to their work. They put extra effort in quickly transitioning to work from home to ensure uninterrupted service to the public."
The implementation of a new computer system with advanced automated features also helped. The ability to file claims and submit documents online, coupled with the fact that more people were at home to search their names on nccash.com, caused a significant increase in the number of claims filed.
With folks strapped for cash during the pandemic, Williams and Folwell successfully lobbied the N.C. General Assembly to allow her department to temporarily take a more proactive
approach to help. The legislature's COVID relief bill gave her department the authority to pay certain simple claims under $250 – "the low hanging fruit," as she called it – without requiring a claim form.
"This allowed us to quickly get money into the hands of people who needed it," she said.
This program, called NCCash Match, was so successful that the legislature made it permanent this session and increased its limit to $5,000.
Williams said she hopes for an even bigger payout total next year as her department continues to find more efficient ways to reunite people with their money.
"We have a lot of fun stories about people being completely shocked to learn we have money that belongs to them," she said. "Like all state employees, we're doing the work that touches lives."
Visit https://www.nccash.com/ to see if you have cash to collect!