State budget talks yet to heat up
Feb 17, 2017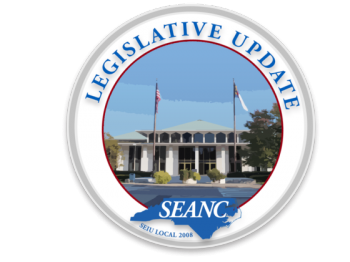 State budget negotiations haven't started in earnest yet at the General Assembly, but the behind-the-scenes chatter has begun.
The SEANC Government Relations team met with several legislators with key roles in the budget process this week to press upon them the dire need for real pay increases for state employees and cost-of-living adjustments (COLA) for retirees in this budget.
If you'll recall last week, legislators began touting a massive $552 million surplus in revenue over last year's projections. With the 2016 election focusing on working families, this year's surplus should be used to help lessen the strain that low wages has put on state employees in recent years.
The fact remains both state employees and retirees have 10-percent less buying power now compared to 2010 because of the lack of true pay raises and COLAs. While the rest of the state has recovered from the Great Recession, we've been left behind and forgotten. Small business owners in North Carolina prosper as well when state employees and retirees have more buying power.
Pay raises and COLAs are a priority for SEANC in this long session, and we hope that you will help us with spreading the word. Contact your legislators soon and often in this session and tell them your story. Better yet, make plans to come down to the legislature to speak with them in person. Contact SEANC at 1-800-222-2758 if you are interested in coming to Raleigh.
Legislators get a first-hand view of Craggy Correctional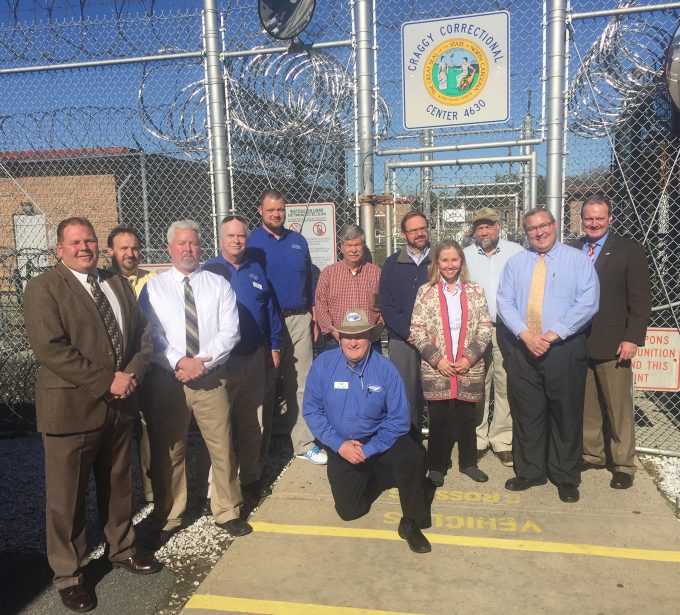 SEANC members asked a group of legislators to visit their worksite at Craggy Correctional Center near Asheville, and a bipartisan group took them up on the offer! Sens. Terry Van Duyn (D-Buncombe) and Chuck Edwards (R-Buncombe) joined Reps. Mike Clampett (R-Haywood), Susan Fisher (D-Buncombe) and John Ager (D-Buncombe) on the tour this morning. Thank you to these lawmakers from both sides of the aisle for showing they care about state services, and that supporting state employees and retirees is not a partisan issue.
Tours like these are a great opportunity for legislators to get a feel for the issues facing state employees every day at the worksite. They leave with a better understanding of the jobs you do, and are more likely to be willing to support our causes in Raleigh. If you are interested in hosting a visit from your legislators at your worksite, please contact SEANC's Government Relations Department. We can help set a visit up for you, provided that the legislators are interested as well.
Folwell discussed state employee issues on N.C. Spin
State Treasurer Dale Folwell sat down with the panelists on N.C. Spin last week to discuss, among other topics, the huge fees that the state is currently paying to Wall Street money managers with state employee pension funds. He also talked about the high risks taken with that money, and the funding and safety of the plan in general.
EMPAC endorsed Folwell because he pledged to clean up the retiree system. He said his goal for the next four years is to "reduce the complexity of these pension investments and bring value to the participants and the taxpayers."
He also discussed the unfunded liability discussion around retiree health coverage through the State Health Plan.
You can watch the entire episode below.
Bill filed to exempt pension benefits from state tax
A bill filed this week in the House would allow public employees to exempt their pension benefits from North Carolina income tax. House Bill 103, the Equal Tax Treatment of Government Employees Act, has gained strong support already. Reps. George Cleveland (R-Onslow), Frank Iler (R-Brunswick), Mitchell Setzer (R-Catawba) and Nelson Dollar (R-Wake) are primary sponsors for it, and Reps. Mike Clampett (R-Haywood), John Faircloth (R-Guilford), Pat Hurley (R-Randolph), Jonathan Jordan (R-Ashe) and Phil Shepard (R-Onslow) are co-sponsors. There will likely be a companion bill filed in the Senate as well.
Pressed by The Fourth Branch, a group of associations of which SEANC is a member, the bill begins the process phasing in exemptions eventually for all retirees of public service in North Carolina.