SEANC pushes for adequate raises, COLAs as budget process moves forward
Mar 24, 2017
SEANC lobbyists have worked hard this week to gather bipartisan support for a bill to grant a $2,400 pay increase for all state employees and another for a 2-percent cost-of-living adjustment for retirees.
The $2,400 raise is just the first step of SEANC's three-year plan to raise all state employee wages above $31,000 annually. It would amount to a pay increase of more than 6 percent for the average state employee. The 2-percent COLA would be a good start in helping retirees who continue to suffer. Their buying power has decreased by 10 percent since 2010 and many are struggling to make ends meet.
What's more, this raise would be fair and across the board, bucking the recent trend of state budgets pitting teachers and state employees against each other. Pay equity is essential if both teachers and state employees are going to share the burden of increased State Health Plan and retirement costs.
The need for fairness in pay raises is evident by the News & Observer's article today on the discrepancies at Cherry Hospital in Goldsboro. Some psychiatrists there received raises last year that are more than other employees' total salary. SEANC member Kathy Merritt, who has worked at Cherry for 28 years and still makes around $30,000, pointed out that it's not right.
"You've got staff struggling to make ends meet, some of them applying for food stamps," she said.
The legislature has to tackle this crisis head-on if the state is going to move forward, and it starts with this year's state budget.
State Health Plan board votes to increase premiums
In what SEANC Director of Operations Chuck Stone called "bitter medicine," the State Health Plan Board of Trustees voted Wednesday afternoon to impose a $25 premium on the 70/30 plan for active employees only, and a $50 premium on the 80/20 plan for active employees and early retirees.

The changes are part of a package meant to stabilize the plan for the next four years without further increases.
Other changes include:
A premium of $25 for the PPO 70/30, which is currently premium-free, for active employees (does not apply to early retirees or Medicare eligible retirees).
An increase in premiums for the PPO 80/20 plan to $50 for active employees and early retirees. Premiums for this plan are already slated to increase to $24 next year.
The elimination of the Consumer-Driven Health Plan, which has proven to be too costly to benefit the plan or its members.
The elimination of so-called "wellness surcharges" pertaining to health risk assessment and designation of a personal care provider that were designed by previous leadership and penalized state employees and retirees. The tobacco attestation surcharge will remain in effect.
Freezing premiums for family coverage and potential subsidization of family coverage in the future (currently no assistance for spousal or dependent coverage)
Click on the video above to get Stone's take on the changes. You can also click here to watch his testimony before the board on Wednesday.
Come to Lobby Day on Wednesday!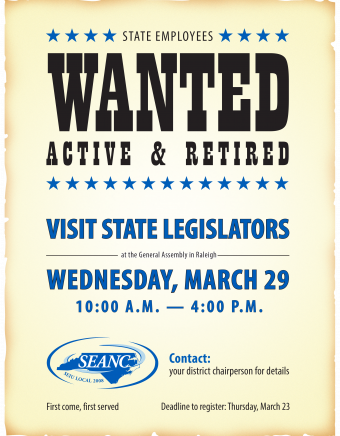 These issues are why it is paramount that members take part in a lobby day effort at the N.C. General Assembly from 10 a.m. to 4 p.m. on Wednesday! Members who attend will lobby legislators for better pay, health care and retirement benefits at a crucial time in the state budget process.
If you are interested in participating, contact your district chairperson to RSVP as soon as possible.
If you can't come, please consider calling or emailing your legislator to tell them you deserve a raise or cost-of-living adjustment!
Cooper signs Executive Order on SEANC access, representation
SEANC's Executive Committee gathered at the N.C. Executive Mansion on Thursday to witness Gov. Roy Cooper sign an Executive Order to guarantee access for SEANC to best represent the needs of state employees throughout state government.

The order rescinds Executive Order 84 signed by Gov. Pat McCrory in December 2015 that stripped the rights of SEANC members to meet with officials and department heads on matters of importance in the workplace. It also denied SEANC access to workers at many state facilities and denied delegates the ability to attend the annual SEANC Convention.
Gov. Cooper's Executive Order 5 calls for reasonable access at all facilities for employee associations with at least 5,000 members. Further, it recommends that the UNC System, the community college system, the State Board of Education and the heads of each Council of State agency follow suit.
The order guarantees SEANC annual meetings with the governor and quarterly meetings with the State Human Resources Director and representatives of each executive branch agency. And officers and delegates to SEANC's annual convention will be allowed three days of managerially approved leave.
"This increased cooperation between management and employees can only result in positive outcomes for the state and the taxpayers," said SEANC Executive Director Mitch Leonard. "We look forward to working with the Gov. Cooper's administration to make sure more of the best and brightest choose careers in state service."