SEANC is making the case for higher education, retiree raises
Dec 10, 2019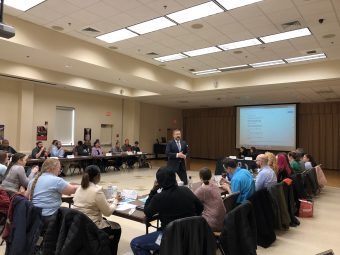 SEANC continues to make the case that all education personnel matter by pushing for equitable raises for university and community college employees as well as non-certified school personnel ahead of the legislature's return to session next month.
SEANC Executive Director Robert Broome spoke last week to the Employee Forum at UNC-Chapel Hill on the need to stand up for raises for UNC and community college employees, among other topics.

The legislature will return in January, and SEANC will keep working to ensure that raises for these employees and retirees will be the top priority for lawmakers. Members should click here to reach out to their legislators to tell them to stand up for pay equity by passing these increases.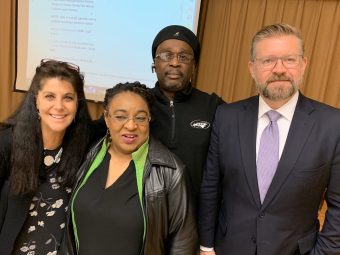 A highlight of Wednesday's meeting was when the UNC Employee Forum honored District 25 Chairman James Holman with an appointment as a lifetime delegate to the Forum (pictured with Broome and members of the Forum) for his dedication to the needs of his coworkers at the university.

In addition to the higher education employees who have wondered for far too long why they are not included, SEANC continues to press the case of retirees. The retiree bonus that was in the budget was barely a bonus at all. Poor choices by previous state treasurers have made a true COLA unavailable. SEANC is grateful to Treasurer Dale Folwell for the work he is doing to dig us out of the mess created by his predecessors. We are pressing legislative leaders to honor the service and sacrifice of our retired state employees, and we believe they will find enough one-time money to provide a retiree bonus of at least 2%.