Republicans: Cooper's budget dead on arrival
Mar 08, 2019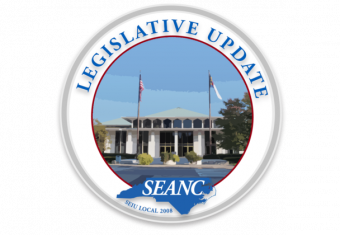 Republican leaders quickly dismissed Gov. Roy Cooper's proposed budget Wednesday, saying it was "not a serious budget proposal." Legislators will soon begin crafting their own spending plan, which is expected to look notably different from the governor's version.

SEANC looks forward to working with the General Assembly and the administration to get the best deal for state employees and retirees.
Cooper's proposal included the following provisions regarding state employees and retirees:
a pay raise of 1.5% or $500 (whichever is greater) for all state employees.
five extra days of special annual leave.
an additional $500 increase for non-certified school personnel, including teaching assistants, custodians and bus drivers.
an additional $500 increase for nearly 37,000 law enforcement officers and institutional employees in the Departments of Public Safety and Health and Human Services.
a one-time 2% bonus for retirees.
$12 million for facility upgrades and safety improvements at the state's prisons.
Council of State approves lease for DMV relocation
Despite fierce opposition from SEANC members and legislators, the Council of State approved a lease proposal that could result in the Division of Motor Vehicles headquarters being moved from Raleigh to Rocky Mount.
The Council of State passed the measure on Tuesday without any discussion or debate. Although Gov. Cooper had previously delayed a vote so the Council could learn more about how DMV would assist employees, no details about worker assistance were shared in the meeting.
The General Assembly must agree to fund the lease before the headquarters move can be finalized. Legislation is pending that would require DMV to issue a new request for proposals.
Following the vote, SEANC Executive Director Robert Broome told the News & Observer that the Council of State had shown "disrespect and disregard" for DMV workers.
"They have turned the lives of some 400 employees completely upside down," Broome said. "It is profoundly disappointing."
Share your healthcare stories with us
The Clear Pricing Project made national headlines this week when a prominent healthcare media outlet, Modern Healthcare, took an in-depth look at the issue. The article pointed out that North Carolina hospitals are five times more profitable than the national average.
One expert said N.C. hospitals "are used to a gravy train," while another said it is "absolutely" possible for the state's hospitals to make it on the Treasurer's plan of reimbursing rates of Medicare plus 77 percent.
Legislators and hospital lobbyists are both claiming to speak on behalf of state employees in this fight, but no one is allowing state employees and retirees to speak for themselves.
We need to hear from you. Please take a minute to share your story with us.
We can win this fight, but we can't allow hospital executives to dominate the narrative about our care. Together, we can stand up and save our State Health Plan for state employees, retirees and our families.
Other items of note
The N.C. Court of Appeals said Tuesday that state retirees are not exempt from paying premiums on their health care. "Retired state employees are promised nothing more than equal access to health care benefits on an equal basis with active state employees," Judge John Tyson wrote in the ruling for himself and Judges Wanda Bryant and Robert Hunter.
The first meeting of the N.C. Senate's Select Committee on Prison Safety will be held Monday at 1 p.m. Sen. Bob Steinburg (R-Chowan) chairs the committee, which will consider recommendations from SEANC's prison reform report issued in January.