​Legislature returns for long session; Retirement, SHP boards meet
Jan 27, 2017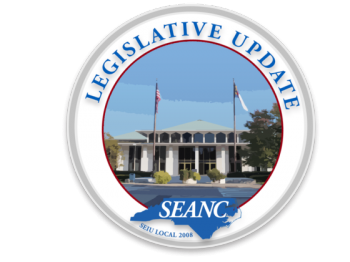 The General Assembly reconvened on Wednesday and got down to business assigning committee chairpersons. Republicans will retain the supermajorities they have held in both chambers since 2011 and will be led by House Speaker Tim Moore (R-Cleveland) and Senate President Pro Tem Phil Berger (R-Rockingham).
"Things have to change for working families and we will all be tested this year," said SEANC Government Relations Director Ardis Watkins. "SEANC is committed to working with Gov. Cooper, Sen. Berger and Speaker Moore to push legislation to improve the lives of North Carolina's hardworking public employees and their families."
A few bills of importance to state employees were filed this week, though.
Rep. Nelson Dollar (R-Wake) introduced House Bill 7 to supplement the state's savings reserve fund with non-recurring money. SEANC will follow this bill, but a real, true pay increase will have to be appropriated from recurring money.
Rep. Pat Hurley (R-Randolph) and Rep. Rena Turner (R-Iredell) filed House Bill 24, which calls for a study group to be stablished to look at the unfunded liability of the State Health Plan.
Folwell leads first Retirement Systems Board of Trustees meeting
On Thursday, the Retirement System Board of Trustees met to discuss the upcoming legislative year in what was the first meeting of the Retirement Board under new Treasurer Dale Folwell.
Treasurer Folwell was enthusiastically endorsed by EMPAC this past fall in his election due to his experience, credentials, and vision for fixing the Retirement System which has been failing retirees in recent years.
Folwell faces a number of challenges going into this position. The Retirement System has been a topic of discussion nationally for several years due to excessive fees paid to Wall Street that have yielded poor results for members of the plan. It is fair to say he has inherited a mess to untangle.
That being said, despite having been on the job just a few weeks, Treasurer Folwell jumped into the first board meeting with a clear agenda for transparency and for identifying any places where the plan is spending money unwisely at the cost of state employees, retirees and the rest of North Carolina's taxpayers.
Treasurer Folwell reported to the Board that he has made phone calls to renegotiate fees with almost 40 investment managers to date. He assured the Board he will continue this work until he has called every manager. What this means for state employees and retirees is that less money will be going in fees to Wall Street and more into your pocket.
It also means that the General Assembly will not have to put the kind of money into the plan down the line that they will have to this year. The board heard that the expected employer contribution for this year is 10.33 percent. Getting a handle on overpayments to Wall Street managers is an important first step to bringing this number down for the General Assembly. That is important not only for taxpayers but for state employees and retirees. The system was designed to provide COLAs through gains made from investments.
Remember that you, the plan member, put 6% of your paycheck in this system to fund it every month. You have done this without fail every year - even when your employer put in 0 percent on your behalf. You built this system with taxpayers and sustained it by yourselves at times. You didn't build it so that investors in New York City could get rich. You built it to provide for a modest but dependable retirement to make up for a career of paychecks which were smaller than they would have been in the private sector.
We look forward to continuing to work with Treasurer Folwell as he takes on the monumental task of putting the Retirement System back on solid footing.
Folwell shines light on outrageous dependent care costs at SHP meeting
Treasurer Folwell also presided over his first meeting of the State Health Plan Board of Trustees this week. On Friday, the trustees met to discuss their legislative priorities for the new session.
Folwell made it a point at the meeting to point out that state employees and retirees are struggling with the current premium structure and benefits of the plan. He pointed out that lower-paid employees often must choose between paying for health care and paying their mortgage.
He was particularly concerned with the outrageous cost of dependent care coverage through the plan. Some state employees who have to cover their kids, for example, are paying 60 percent of their own health care costs. That's not much of a "benefit" of employment.
That means that some of our best and brightest citizens are not going into state service because they simply can't afford the health care coverage for their children.
Folwell also expressed a commitment to transparency for all stakeholders – employees and retirees, taxpayers and legislators.
Stay informed throughout the session
SEANC is counting on you to remain engaged during the current session. SEANC President Stanley Drewery has made it a priority to get as many members as possible to contact your legislators at least once this session, be it through a phone call, email or preferably in person.
The video below is meant to help you with these outreach efforts. Please watch it, and make plans to come to the legislature and speak to your lawmakers on the need to respect state employees and retirees.
Also, stay informed. In addition to weekly Legislative Updates in The Scoop, SEANC will also share information as it is available on social media. We also ask that you text "SEANC" to 787753 to opt into our text alerts service. These alerts will tell you when action is needed.