Legislature passes pay raises, retiree bonuses in budget
Jun 02, 2018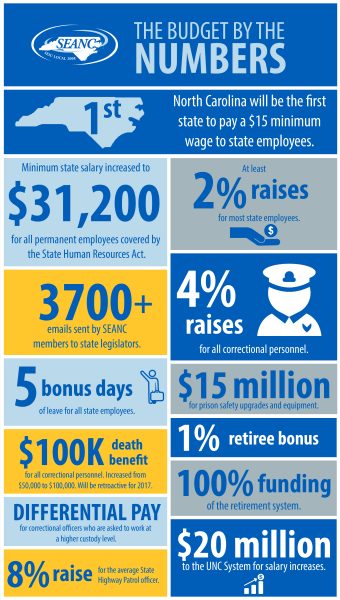 The legislature gave final approval to the state budget on Friday. Click here for more on the budget.

With this budget, North Carolina will be the first state to pay a $15 an hour ($31,200 annually) minimum wage to state employees. This applies to all permanent employees in state agencies and universities, estimated to be at least 12 percent of the state's workforce.
Most state employees will receive a pay raise of at least 2 percent and five days of bonus leave. But the budget sets aside $20 million for university raises and $24 million for community college raises, both of which will be determined by their respective governing boards.
SEANC also led the fight to improve pay, safety and respect for correctional personnel, who will receive a 4 percent raise and a doubling of their line-of-duty death benefit $100,000. The budget also provides differential pay for working in custody levels higher than their current classification.
Retirees will receive a 1 percent non-recurring supplemental bonus, and the budget fully funds the retirement system.
The budget now heads to Gov. Roy Cooper's desk, where he can either sign it, veto it, or let it become law without his signature. If he does veto it, Republicans in the legislature have the votes to override that veto, meaning this is likely the final version of the budget.
Your hard work paid off! Thank you to the SEANC members who made their voices heard through emails, phone calls, yard signs, social media videos and messages