Legislative Update: Pay raises, bonuses, COLAs included in Cooper's budget
Mar 27, 2021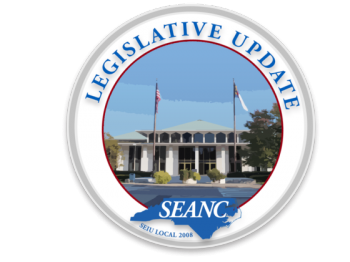 This week state budget negotiations officially began with the announcement of Gov. Roy Cooper's proposal. SEANC Executive Director Ardis Watkins sent a message to members Wednesday detailing Cooper's plan. It includes pay raises and bonuses for all state employees and a cost-of-living adjustment and bonus for retirees.
Further inspection of the proposal revealed that it also includes funds to address wage compression, an issue resulting from the introduction of the $15 minimum wage for most state employees instituted in 2018. Wage compression happens when a group of employees is moved up on the pay scale, and veteran employees in the same positions remain at their current salary. This leads to low morale and turnover.
The solution to wage compression issues is equitable pay for all employees. As grateful as we are that Cooper's proposal extends the $15 minimum wage to more employees, we are also keenly aware that it produces salary issues that will need to be addressed sooner rather than later.
UNC bill passes House with pay cuts
House Bill 243, a bill designed to help the UNC System cope with budget problems resulting from the pandemic, passed the House this week with a provision allowing pay cuts intact. As stated in last week's Scoop, though University officials claim that they have no plans to cut salaries at this time, SEANC insists this should not be an option and should be removed from an otherwise acceptable bill.
The bill has been referred to the Senate Rules Committee.
Transparency coming to State Health Plan?
The House State Government Committee gave a favorable report this week to House Bill 169, which gives the State Health Plan staff access to see how much the plan pays providers. Currently, providers negotiate rates with the plan's administrator, Blue Cross Blue Shield of North Carolina, and those contracts are kept secret.
It's outrageous that the State Health Plan staff can't even know exactly what we are spending on specific procedures. This bill would bring much-needed transparency to the claims process.
Bill would open personnel files to public
A bill was filed to open up more of state employees' personnel files to public records requests on Thursday. Senate Bill 355 would allow the public to access disciplinary and performance records, promotions, and other currently shielded information.
Bills like this have come up before, and SEANC has successfully lobbied against them, pointing out to lawmakers that it unnecessarily opens the state to liability issues and lawsuits.
"A personnel file is a very loaded thing, and if the government allows things to go into that file and (be) publicly disseminated — you have to ask, what is the positive you have to gain there?" SEANC Executive Director Watkins told the News & Observer Thursday.