House budget passes with raises, COLAs; DOT jobs saved for now
May 19, 2016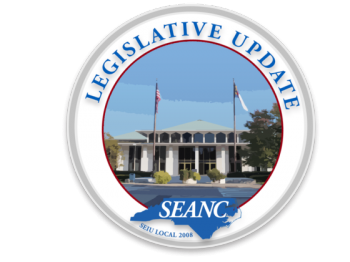 Life in the General Assembly moves very fast these days. Just a week ago, we didn't even know what was in the House budget. Today, it is being signed, sealed and delivered over to the Senate.
The House passed its budget with overwhelming bipartisan support Thursday, just four days after it was made public. It includes a 2-percent salary increase and $500 bonus for state employees and a 1.6-percent cost-of-living adjustment for state retirees.
SEANC thanks Rep. Nelson Dollar (R-Wake) for his leadership and hard work in recognizing that state employees and retirees deserve real raises.
The budget debate now moves to the Senate. The Senate is more likely to support targeted raises rather than across the board. Still, there may be more support for the House raises than initially thought.
Some reports indicate that the Senate is more likely than not to agree with much of the House budget this time in an effort to get it over with and get back home to campaign in this election year.
Most feel like legislators want to get the whole session over with by the end of June. So things are going to continue to move quickly.
As the budget debate moves to the Senate, we encourage members to contact your senator and tell them to build on the raises and COLAs in the House budget. Though it is a step in the right direction, active and retired employees are still far behind the cost of living over the last decade. Not sure who your senators are? Click here.
DOT jobs saved by Pendleton amendment
Though the House budget debate moved fast, SEANC scored a huge win against privatization by securing an amendment that halts cuts of filled positions and outsourcing in the Department of Transportation until the department can prove to taxpayers that such measures will save money.
If you'll recall, DOT officials had proposed a reduction in force, through restructuring, which amounted to 22 percent in staffing at some offices, most centered around Raleigh, in order to meet a requirement in last year's budget that it cut just 10 percent. To make up for the lost work, DOT proposed outsourcing most of the duties.
The amendment was brought forth by Rep. Gary Pendleton and received bipartisan support as well, with Rep. Darren Jackson and others speaking out in favor of it. It passed after a contentious debate on Wednesday, 69-43.
The jobs aren't safe yet, though. The Senate must agree not to make the proposed cuts in its budget, which will likely be announced soon.
SEANC is looking for stories of privatization gone wrong in the Department of Transportation. If you know of any examples, please contact the SEANC Government Relations department today.
State Health Plan board votes on changes
Despite requests from SEANC that it put off voting until the legislature announces spending for the plan, the State Health Plan Board of Trustees rushed changes through for 2017 that will have a negative impact on your paycheck.
The changes include a dramatic deductible increase for the 80/20 plan. The current deductible is $700 and the Board approved an increase to $1,250 as well as other unaffordable cost increases for state employees and retirees.
There would be smaller increases in the 70/30 plan and no change to the Consumer Driven (85/15) plan. See the full document of changes here.
This proposal, while horrible for state employees and retirees, changed from prior versions which would have eliminated the 80/20 plan, or at least increased the deductible would be $2,000.
In February, State Health Plan Board member Charles Johnson, a SEANC Past President, successfully fought elimination of the 80/20 plan after outcry from SEANC members and lawmakers. Johnson was the only "no" vote to the changes voted on last Friday.
SEANC's Chuck Stone testified at prior meetings and again Friday that any cost increases would be unaffordable for Plan members and would offset any benefit of a potential raise this year. See Stone's testimony at the Board below.
SEANC calls on Cowell to resign from boards or her office
SEANC's Board of Governors voted unanimously last week to call on state Treasurer Janet Cowell to either resign from the two corporate boards she recently joined or step down from her position as Treasurer and allow someone else to serve North Carolina's interests free from conflicts.
The action made headlines around the state and nationally, though Cowell remained adamant that she sees nothing wrong with her decision. The News & Observer questioned the Perry Newsom, executive director of the Board of Ethics that signed off on Cowell's decision, and he doubled down on his stance.
When Newsom says he "maybe has blinders on" on this issue, we agree. There's no other way to explain how obvious conflicts can be seen as ethical.
The conflicts are clear. The management firm that owns a majority stake in one of the companies also manages billions of SEANC members' dollars in the state pension system. Also, Cowell serves as Chairwoman of the State Banking Commission, and the CEO of that same company is a director of Yadkin Bank.
Those are two conflicts before Cowell even started serving on the boards. Imagine what else will come up in the next eight months.
SEANC President Ross Hailey appeared on an extensive interview on the Freedom Action Network this week to discuss both this topic and the budget. Click here to listen(Hailey's interview begins at the 36 minute mark).