Folwell announces network to ensure affordable care for State Health Plan members
Aug 09, 2019
With the state's hospitals continuing their boycott of the Clear Pricing Project, State Treasurer Dale Folwell announced Thursday that the State Health Plan would operate in the coming year with a hybrid system featuring two networks that will ensure all state employees and retirees have in-network coverage at facilities close to home.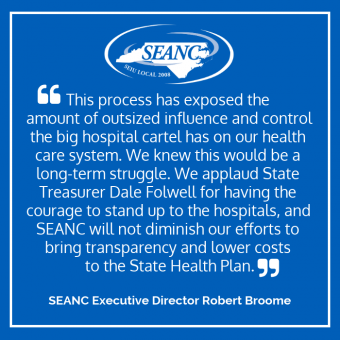 The new North Carolina State Health Plan Network will consist of the more than 28,000 providers that signed on to the Clear Pricing Project in addition to Blue Cross Blue Shield of North Carolina's Blue Options Network, the network the plan currently uses.
The announcement came just days after a report from WalletHub found that North Carolina ranks 50th in the nation in health care, mostly because of outrageous costs and lack of access.
SEANC will continue to fight for transparency in health care on behalf of its members.
"This process has exposed the amount of outsized influence and control the big hospital cartel has on our health care system," said SEANC Executive Director Robert Broome. "We knew this would be a long-term struggle. We applaud State Treasurer Dale Folwell for having the courage to stand up to the hospitals, and SEANC will not diminish our efforts to bring transparency and lower costs to the State Health Plan."
Folwell said the decision was made to comply with access to care requirements for hospital coverage. The new network begins January 1, 2020, and will be offered to members enrolled in the 70/30, 80/20 and High Deductible Health Plans. As a reminder, this network does not affect members on the UnitedHealthcare Medicare Advantage plans.
Open Enrollment for the 2020 benefit year will be held later in the fall at a date that will be announced soon.