EMPAC endorses Jessica Holmes for Commissioner of Labor
Sep 14, 2020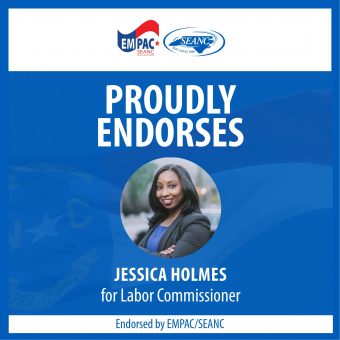 EMPAC, the political action committee of the State Employees Association of North Carolina, today announces its endorsement of Jessica Holmes for Commissioner of Labor in the upcoming general election.

Holmes is a rising star in North Carolina politics and currently serves as immediate past chairwoman of the Wake County Board of Commissioners after being elected to the board as its youngest member ever in 2014.
In her interviews with EMPAC's leadership, Holmes exhibited vast knowledge of the issues facing working families in North Carolina, particularly state employees.
"Jessica Holmes is the perfect candidate to take over a Department of Labor that has fallen short in its mission of protecting workers in recent years," said Mark Dearmon, EMPAC Statewide Chairman. "EMPAC's interview team was very impressed by her interview and we feel that she is the best person to right the ship given her history of standing up for working families. Jessica Holmes is EMPAC's choice for Commissioner of Labor."