DMV move halted after SEANC members speak out
Feb 08, 2019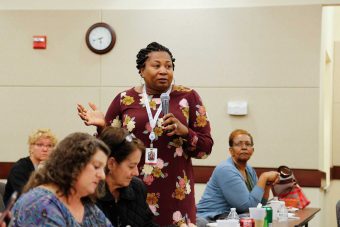 Gov. Roy Cooper put plans to move the headquarters of the Division of Motor Vehicles to Rocky Mount on hold Monday following outcry from the employees who work there.
With short notice, DMV employees gathered at the SEANC Central Office Monday night to have their voices heard on the move, which would require many to drive 120 extra miles a day to work. Members cited possible flooding issues at the new site, childcare and school conflicts and medical treatment among the many problems they have with the move.
Earlier in the afternoon, the entire Wake County delegation to the General Assembly spoke out against the move as well. Rep. Yvonne Holley (D-Wake), who represents the area where the current headquarters is located, and Rep. Rosa Gill (D-Wake) spoke at SEANC's forum as well.
Citing the employees' concerns, Cooper pulled the move from the Council of State's agenda. The council must approve the move before it can occur. But the fight is not over. Cooper told the Council it will vote on the issue at the next meeting March 5, and legislative leaders spoke out in favor of the move on Thursday.
SEANC will continue to work with the council and DMV leaders to ensure that employees' voices are heard.
Folwell, Rose spell out the truth about State Health Plan changes
Also this week, the fight over reimbursement rates paid by the State Health Plan continued to heat up. State Treasurer Dale Folwell wrote an op-ed in The News & Observer today on his efforts to cut costs to the State Health Plan and save members and taxpayers more than $400 million.
"In every other purchase you make in your life you know the price and value of what you are consuming. Whether it's a tank of gas or a cup of coffee, you know what it costs and can decide whether it's worth it to you. That transparency simply does not exist when purchasing healthcare."
SEANC District 12 Chairwoman Chenell Rose explains in this story on WFAE radio how unaffordable the State Health Plan's dependent coverage is for members, and why she supports Folwell's plan.