BLACK HISTORY MONTH: L.T. McCrimmon: Blazing trails at the highest levels
Feb 26, 2021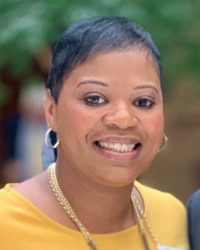 La'Tanta (L.T.) McCrimmon is used to catching people off guard.
"People hear 'L.T. McCrimmon' and they automatically think I'm a man," she joked this week about meetings at the legislature, where she now serves as Gov. Roy Cooper's chief legislative voice. "I just go in and put my best foot forward. I got here because I know what I am doing, and Gov. Cooper has confidence in me to do my job."
Cooper has so much faith in McCrimmon that he announced Friday that she is the first African-American woman to serve as Legislative Director for a governor in the state's history.
At just 38, McCrimmon has already gained a wealth of experience in positions most politicos covet. She worked for U.S. Rep. Bob Etheridge's office for five years before joining U.S. Rep. Deborah Ross's campaign for U.S. Senate in 2012. She joined Governor Cooper's first term as Deputy Legislative Director working on Health and Human Services issues after the 2012 election.
She stepped out of the Cooper administration last year to serve as N.C. Director of Joe Biden's 2020 campaign for President of the United States in what she deemed the opportunity of a lifetime. It turned out to be anything but a typical campaign, though, with the ongoing pandemic's challenges changing every facet of American life.
"That was definitely a wild ride. Virtual campaigning was so taxing," McCrimmon recalls. "But honestly, I was just blown away when I got the call to serve as state director. It's something I will tell my grandkids."
With Biden in the White House, she returned to the Cooper Administration and her new challenge.
McCrimmon found her love of politics at a young age from her mother, Vanessa, who raised her daughter to believe in the political system.
"It makes me smile when I talk about mom," she said. "She pressed upon us that education is key. I love politics, and that comes from her. She voted in EVERY election, no matter what. I learned early that it was our civic duty to vote and be informed about who was on the ballot."
Raised by a single mother who worked at the Campbell Soup factory in Laurinburg, McCrimmon said her upbringing serves as a constant reminder of working families' struggles.
"People say they see it, but I've lived it," she said. "I know what it's like to see my mother work 12- or 16-hour days. This is personal for me."
Another strong influence in McCrimmon's life is her great-grandmother Lucille Easterland, who lived with her family as she grew up.
"I got a chance to sit with her and hear all kinds of stories," she said. "You don't know what struggle is until you talk to a woman who was born in 1896."
A proud native of Scotland County, McCrimmon holds two bachelor's degrees in Political Science and Criminal Justice from Shaw University and a Master of Public Administration from North Carolina Central University.
With such a strong resume, McCrimmon is poised for a long career in public service and won't rule out a run for office if the opportunity presents itself.
"I may run for office one day. I don't think it's my time yet," she said. "I have a passion for it. I love my job, and I love this state. I am just grateful for the opportunities I have had to serve."
-- By Jonathan Owens