Mitch Leonard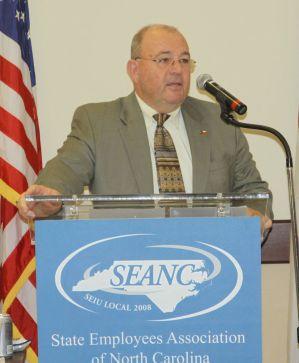 SEANC Lobbyist Mitch Leonard has been advocating for public services and the people who provide them for longer than some SEANC members have been alive.
After a stint in the Army, Leonard went to work for the N.C. Department of Transportation office in Asheboro in 1970. It was there that he first joined the North Carolina State Government Employees Association – SEANC's predecessor. He said he joined at the time, "because I was fed up with the things that were happening in Raleigh and saw that the only opportunity I had as a state employee to change that was to become active in the NCSGEA."
And active he became – so much so that in 1977 he went to work as NCSGEA's first field representative. In the last 38 years, he has done almost every job within the organization, from signing up members to editing the newsletter to lobbying the General Assembly. He received the Order of the Long Leaf Pine – the most prestigious honor bestowed by the governor of the state – in 2012.
Today most of his lobbying efforts are aimed at preserving members' retirement security. He is a tireless watchdog and advocate for state retirees. Leonard is currently conducting workshops with retired members across the state on issues affecting them as well.
He said his most memorable experience as a SEANC staffer came in 2010 when he and the staff teamed with members who work in prison maintenance to thwart efforts to privatize those jobs. He said the prison maintenance workers who showed up to voice their concerns during that fight represented the best of what SEANC is all about, and they made a lasting impression on legislators.
"That was a classic example of how this organization works best," he said. "You had our staff lobbying, but you also had the members taking an active role. Whenever privatization comes up in the legislature now, someone always brings up those guys that were in the balcony fighting for their jobs."
The future of the organization depends on involvement from members like that, he said.
"SEANC is really a state employee's only voice," he said. "You have to be involved. If not, we stand to lose everything that I have spent my whole career working for. We try to expand what we have, but these days it's just as important to keep what we have already."
When he has any time off, he said he enjoys spending time with his grandson, Anderson, and his family, including his wife of 42 years, Lorraine. He also enjoys golfing, though his game isn't as sharp as he wishes it was.
Contact Mitch Leonard at mleonard@seanc.org or by phone at (919)833-6436.