Michael Bell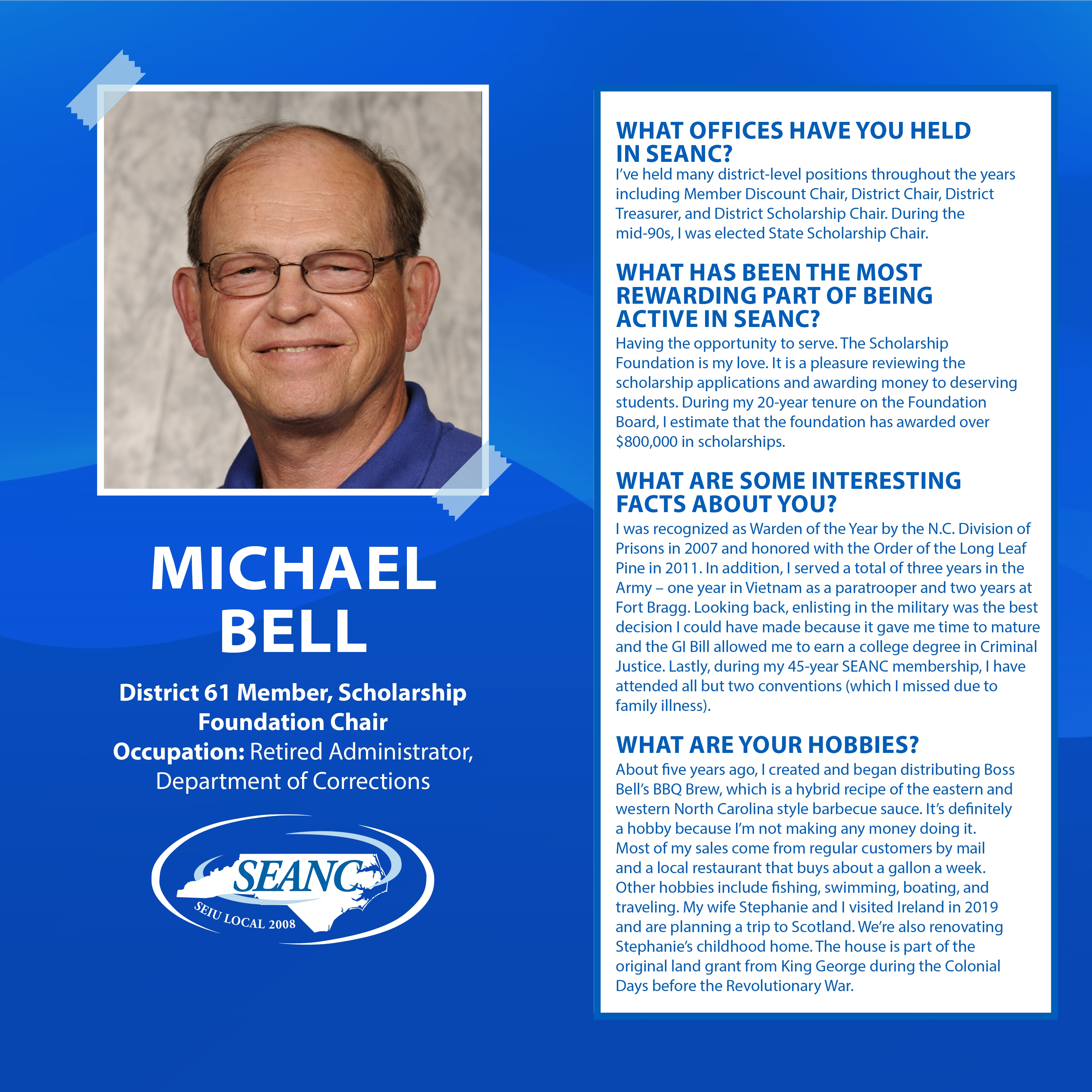 Michael T. Bell
District 61 member
Scholarship Foundation Chair
Occupation: Retired Administrator, Department of Corrections
Q1: How did you become involved in SEANC? While working in Duplin County, my boss (who was very active in NCSEA) encouraged me to join. So, I did in 1975.
Q2: What offices have you held in SEANC? I've held many district-level positions throughout the years including Member Discount Chair, District Chair, District Treasurer, and District Scholarship Chair. During the mid-90s, I was elected State Scholarship Chair.
Q3: What has been the most rewarding part of being active in SEANC? Having the opportunity to serve. The Scholarship Foundation is my love. It is a pleasure reviewing the scholarship applications and awarding money to deserving students. During my 20-year tenure on the Foundation Board, I estimate that the foundation has awarded over $800,000 in scholarships.
Q4: What do you wish everyone knew about SEANC? How much good the association does. If it wasn't for SEANC, who knows what the state employee and retiree benefits would be like? SEANC's voice in the legislature helps to protect our working conditions, increase our pay, and benefits.
Q5: What are your hobbies? About five years ago, I created and began distributing Boss Bell's BBQ Brew, which is a hybrid recipe of the eastern and western North Carolina style barbecue sauce. It's definitely a hobby because I'm not making any money doing it. Most of my sales come from regular customers by mail and a local restaurant that buys about a gallon a week. Other hobbies include fishing, swimming, boating, and traveling. My wife Stephanie and I visited Ireland in 2019 and are planning a trip to Scotland. We're also renovating Stephanie's childhood home. The house is part of the original land grant from King George during the Colonial Days before the Revolutionary War.
Q6: Tell us about your family: My wife Stephanie and I recently lost our beloved 12-year-old white Lab, Charlie, who Stephanie adopted through the A New Leash on Life program. This program allows minimum and medium custody state prisons to partner with local animal shelters to train dogs in preparation for their adoption. Our current fur baby, Rosebud is a three-year-old Golden Retriever. I also have two grown (human) sons. My youngest son's wife gave birth to twin girls last April, and my oldest son's wife is expecting a daughter in June. Stephanie and I are looking forward to spending more time with them in the future.
Q7: What are some interesting facts about you that people might not know? I was recognized as Warden of the Year by the N.C. Division of Prisons in 2007 and honored with the Order of the Long Leaf Pine in 2011. In addition, I served a total of three years in the Army – one year in Vietnam as a paratrooper and two years at Fort Bragg. Looking back, enlisting in the military was the best decision I could have made because it gave me time to mature and the GI Bill allowed me to earn a college degree in Criminal Justice. Lastly, during my 45-year SEANC membership, I have attended all but two conventions (which I missed due to family illness).