Mary Clark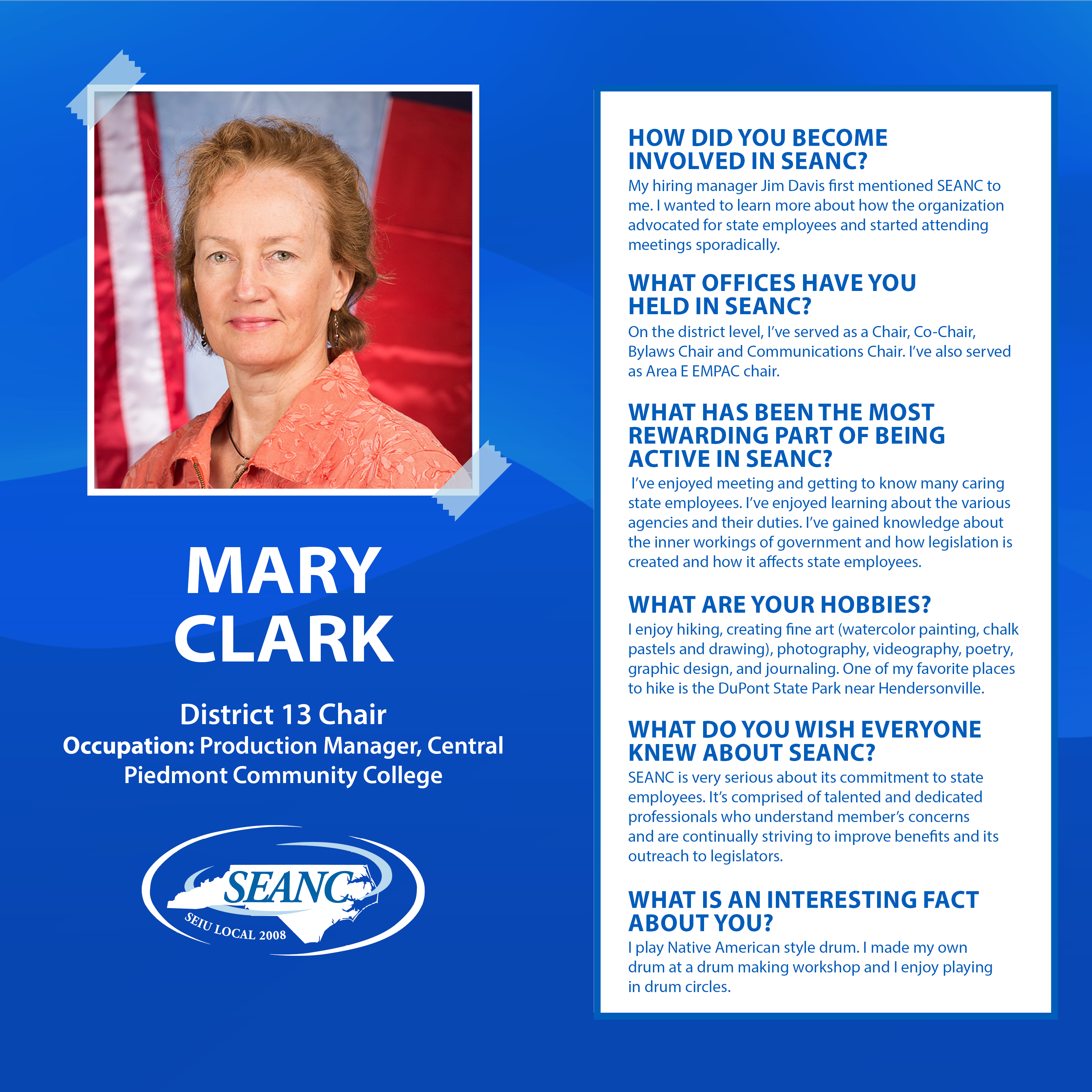 Mary Clark
District 13
Occupation: Production Manager, Central Piedmont Community College
County: Mecklenburg County
How did you become involved in SEANC? My hiring manager Jim Davis first mentioned SEANC to me. I wanted to learn more about how the organization advocated for state employees and started attending meetings sporadically.

What offices have you held in SEANC? On the district level, I've served as a Chair, Co-Chair, Bylaws Chair and Communications Chair. I've also served as Area E EMPAC chair.
What has been the most rewarding part of being active in SEANC? I've enjoyed meeting and getting to know many caring state employees. I've enjoyed learning about the various agencies and their duties. I've gained knowledge about the inner workings of government and how legislation is created and how it affects state employees.
What do you wish everyone knew about SEANC? SEANC is very serious about its commitment to state employees. It's comprised of talented and dedicated professionals who understand member's concerns and are continually striving to improve benefits and its outreach to legislators.
What are your hobbies? I enjoy hiking, creating fine art (watercolor painting, chalk pastels and drawing), photography, videography, poetry, graphic design, and journaling. One of my favorite places to hike is the DuPont State Park near Hendersonville.
Tell us about your family: My eldest brother lives in California. My sister lives in Charlotte and my other brother lives in South Carolina with his wife. My parents were both artists and we all appreciated music and artistic expression.
What is an interesting fact about you that people should know? I play Native American style drum. I made my drum at a drum making workshop and I enjoy playing in drum circles.