Mark Dearmon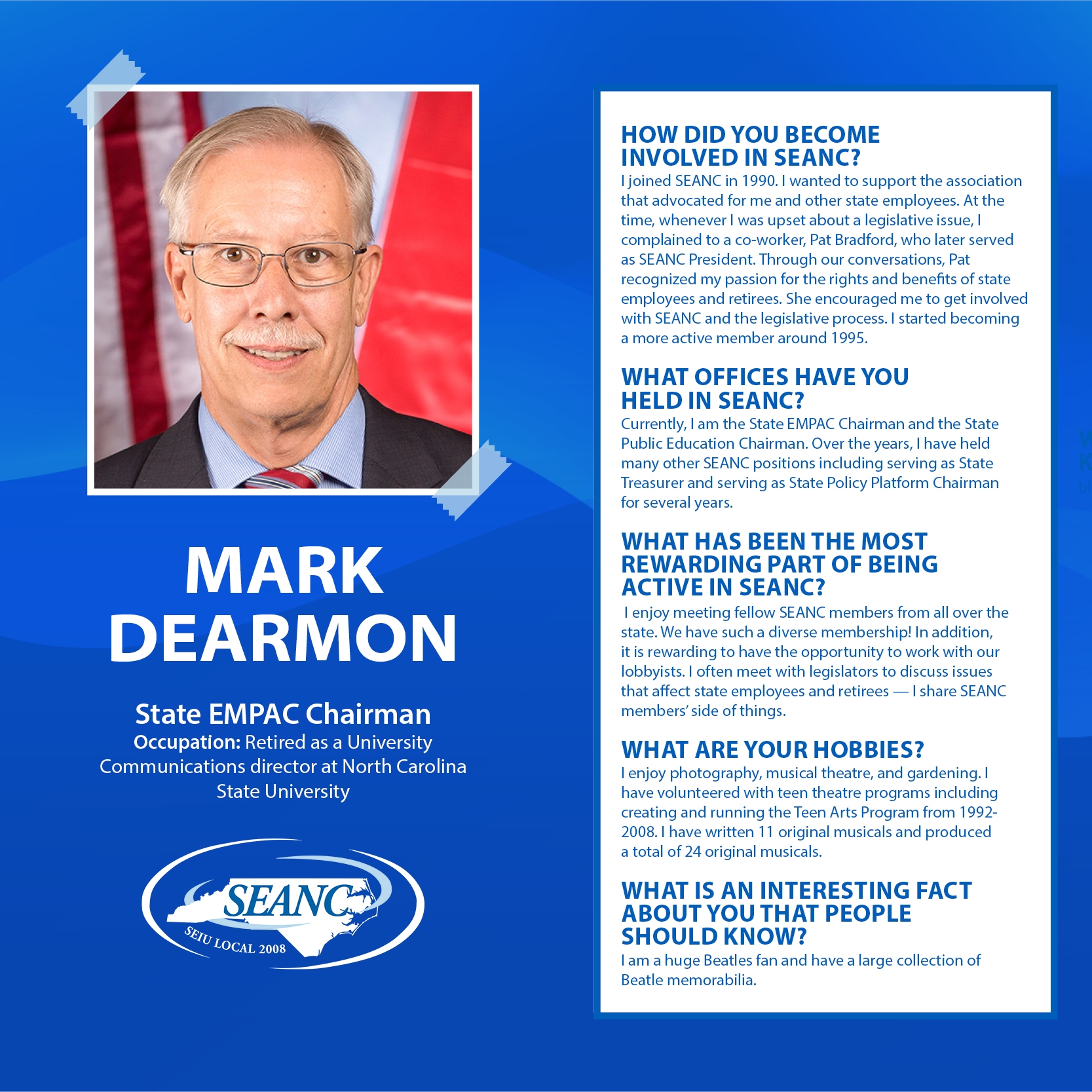 Mark Dearmon State EMPAC Chairman
District 39 member
Retired as a University Communications director at North Carolina State University
When did you become involved in SEANC? I joined SEANC in 1990. I wanted to support the association that advocated for me and other state employees. At the time, whenever I was upset about a legislative issue, I complained to a co-worker, Pat Bradford, who later served as SEANC President. Through our conversations, Pat recognized my passion for the rights and benefits of state employees and retirees. She encouraged me to get involved with SEANC and the legislative process. I started becoming a more active member around 1995.
What offices have you held in SEANC? Currently, I am the State EMPAC Chairman and the State Public Education Chairman. Over the years, I have held many other SEANC positions including serving as State Treasurer and serving as State Policy Platform Chairman for several years.
What has been the most rewarding part of being active in SEANC? I enjoy meeting fellow SEANC members from all over the state. We have such a diverse membership! In addition, it is rewarding to have the opportunity to work with our lobbyists. I often meet with legislators to discuss issues that affect state employees and retirees ­– I share SEANC members' side of things.
What do you wish everyone knew about SEANC? SEANC is the only voice state employees and retirees have in the legislature. I wish all state employees and retirees were SEANC members.
What are your hobbies? I enjoy photography, musical theatre, and gardening. I have volunteered with teen theatre programs including creating and running the Teen Arts Program from 1992-2008. I have written 11 original musicals and produced a total of 24 original musicals.
Tell us about your family: I have two younger sisters and a brother. My youngest sister and her son are also SEANC members. In the late 80s, my parents started the History Room in Kannapolis, N.C. My now 98-year-old father is the Kannapolis town historian. Recently, he was inducted in the N. C. Military Veterans Hall of Fame as a WWII veteran for his extensive public service.
What is an interesting fact about you that people should know? I am a huge Beatles fan and have a large collection of Beatle memorabilia.