Linda Sutton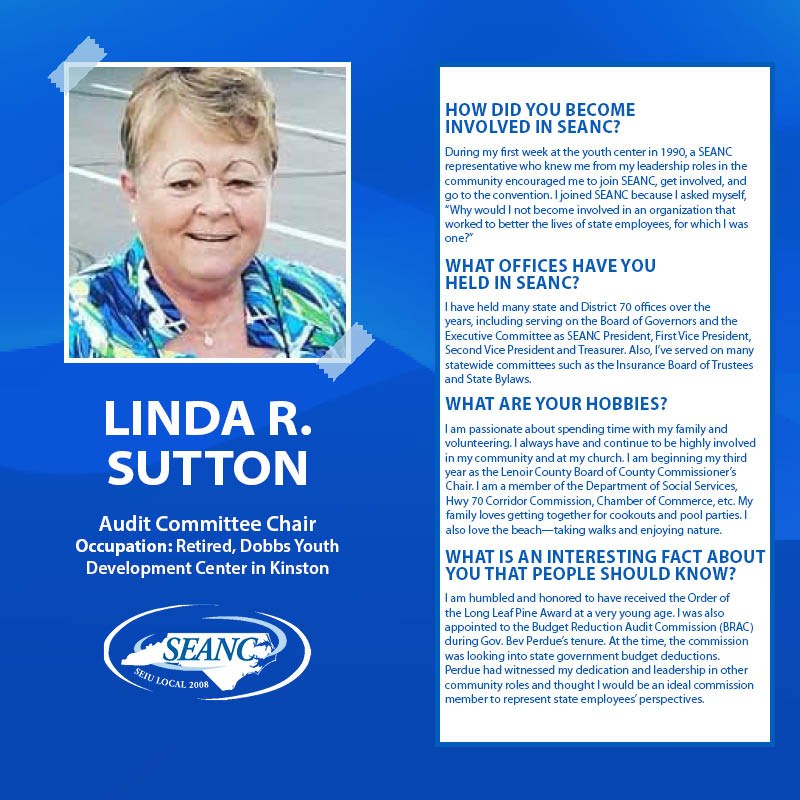 Audit Committee Chair
Linda Rouse Sutton
Occupation: Retired, Dobbs Youth Development Center in Kinston
How did you become involved in SEANC? During my first week at the youth center in 1990, a SEANC representative who knew me from my leadership roles in the community encouraged me to join SEANC, get involved, and go to the convention. I joined SEANC because I asked myself, "Why would I not become involved in an organization that worked to better the lives of state employees, for which I was one?"
What offices have you held in SEANC? I have held many state and District 70 offices over the years, including serving on the Board of Governors and the Executive Committee as SEANC President, First Vice President, Second Vice President and Treasurer. Also, I've served on many statewide committees such as the Insurance Board of Trustees and State Bylaws.
What has been the most rewarding part of being active in SEANC? Making a difference for our employees. It's in our mission statement: SEANC is committed to protecting and enhancing the rights and benefits of current, retired and future state employees. I'm incredibly proud of the Connections Committee Disaster Relief Fund. SEANC districts recognized such a great need and came together to donate money for those who were misplaced when their homes were destroyed. SEANC is a family.
What do you wish everyone knew about SEANC? The average SEANC member doesn't realize the benefits they enjoy today are due to the tremendous amount of time, effort, and dedication from SEANC's former leaders and staff, as well as the efforts of active and retired SEANC members. Unfortunately, many SEANC members are only beginning to understand the value of these benefits now that they are under threat again. I hope that they realize how critical it is to have active SEANC members. A strong SEANC membership means more voices and a larger influence in the legislature.
What are your hobbies? I am passionate about spending time with my family and volunteering. I always have and continue to be highly involved in my community and at my church. I am beginning my third year as the Lenoir County Board of County Commissioner's Chair. I am a member of the Department of Social Services, Hwy 70 Corridor Commission, Chamber of Commerce, etc. My family loves getting together for cookouts and pool parties. I also love the beach—taking walks and enjoying nature.
Tell us about your family: My husband Clyde and I have been marred for 53 years. Both our daughter April who teaches and our son Jereme, a hospital administrator are happily married. We have four grandchildren ages 8-21. We are blessed that everyone lives close to each other and we can be together often.
What is an interesting fact about you that people should know? I am humbled and honored to have received the Order of the Long Leaf Pine Award at a very young age. I was also appointed to the Budget Reduction Audit Commission (BRAC) during Gov. Bev Perdue's tenure. At the time, the commission was looking into state government budget deductions. Perdue had witnessed my dedication and leadership in other community roles and thought I would be an ideal commission member to represent state employees' perspectives.