Korey Wheeler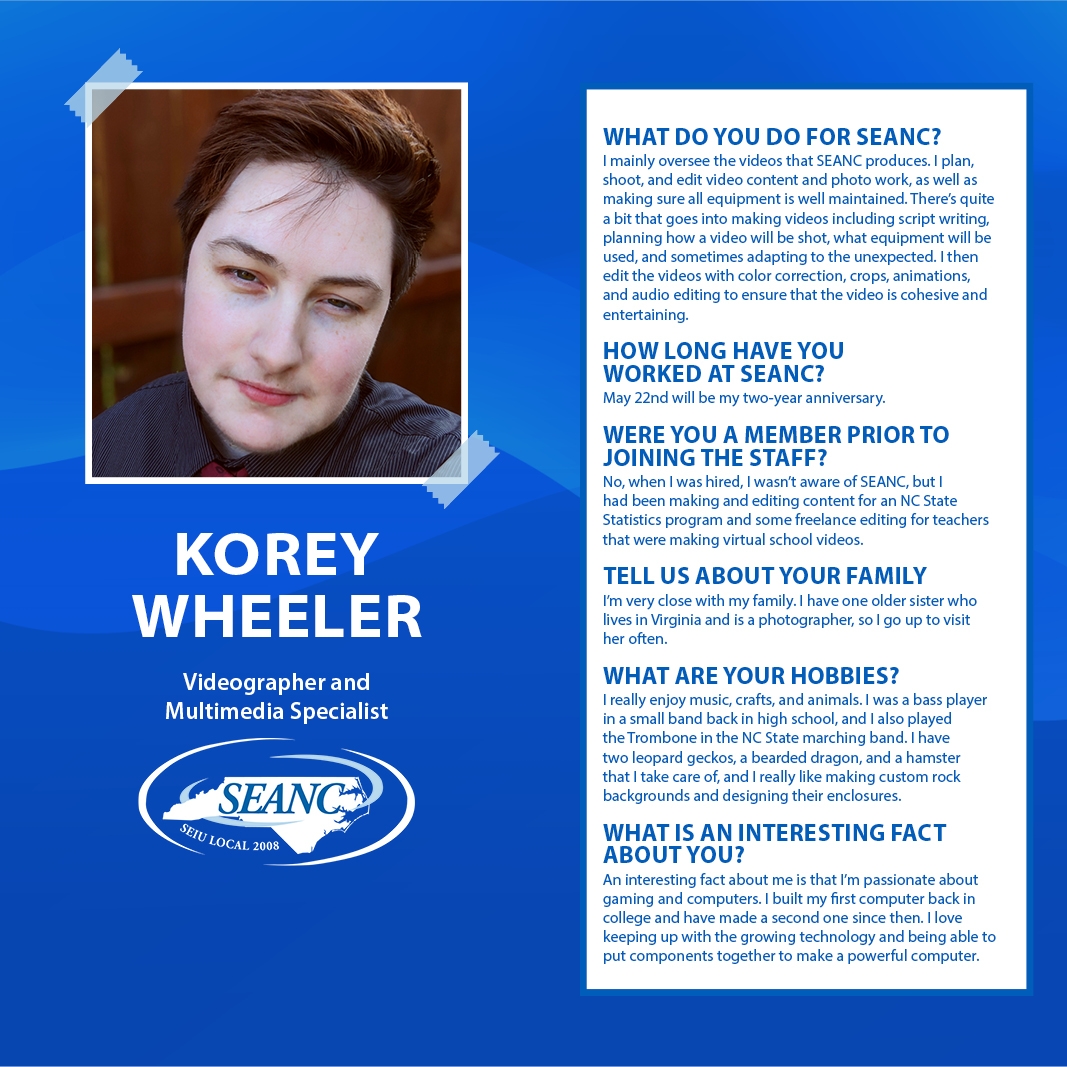 Korey Wheeler
Videographer and Multimedia Specialist
Q1: What do you do for SEANC? I mainly oversee the videos that SEANC produces. I plan, shoot, and edit video content and photo work, as well as making sure all equipment is well maintained. There's quite a bit that goes into making videos including script writing, planning how a video will be shot, what equipment will be used, and sometimes adapting to the unexpected. I then edit the videos with color correction, crops, animations, and audio editing to ensure that the video is cohesive and entertaining.
Q2: How long have you worked at SEANC? May 22nd will be my two-year anniversary.
Q3: What's the most rewarding part of your job? The most rewarding part of my job is being able to make a difference through my passion of video content. I love being able to take SEANC's messages and goals and amplify them through a video.
Q4: Were you a member prior to joining the staff? No, when I was hired, I wasn't aware of SEANC, but I had been making and editing content for an NC State Statistics program and some freelance editing for teachers that were making virtual school videos.
Q5: Tell us about your family: I'm very close with my family. I have one older sister who lives in Virginia and is a photographer, so I go up to visit her often.
Q6: What are your hobbies? I really enjoy music, crafts, and animals. I was a bass player in a small band back in high school, and I also played the Trombone in the NC State marching band. I have two leopard geckos, a bearded dragon, and a hamster that I take care of, and I really like making custom rock backgrounds and designing their enclosures.
Q7: What is an interesting fact about you that people should know? An interesting fact about me is that I'm passionate about gaming and computers. I built my first computer back in college and have made a second one since then. I love keeping up with the growing technology and being able to put components together to make a powerful computer.