Kemrey LaMarr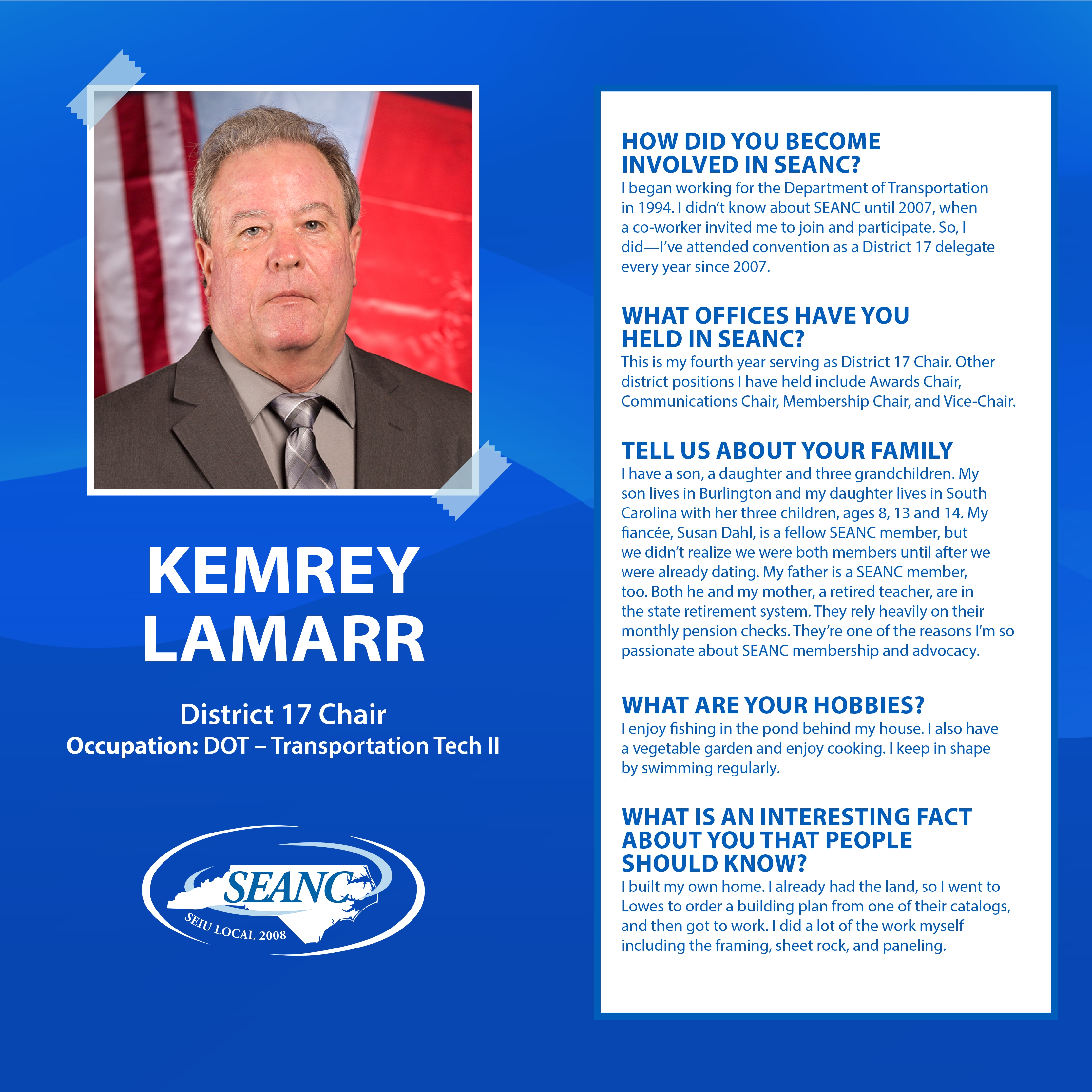 Kemrey LaMarr District 17 Chair
Occupation: DOT – Transportation Tech II
Counties: Guilford, Chatham, Rockingham, Randolph, Alamance, Caswell
How did you become involved in SEANC? I began working for the Department of Transportation in 1994. I didn't know about SEANC until 2007, when a co-worker invited me to join and participate. So, I did—I've attended convention as a District 17 delegate every year since 2007.
What offices have you held in SEANC? This is my fourth year serving as District 17 Chair. Other district positions I have held include Awards Chair, Communications Chair, Membership Chair, and Vice-Chair.
What has been the most rewarding part of being active in SEANC? I enjoy helping fellow state employees. I try to keep my district members informed and updated about important issues like explaining what's going on in the legislature and insurance. ­
What do you wish everyone knew about SEANC? SEANC is about more than pay raises. If all state employees and retirees joined SEANC and participated, our livelihoods would improve dramatically. Some of the things you hear from non-members are gossip, not facts. A lot of non-members don't understand EMPAC or that they can get SEANC insurance anytime they want.
What are your hobbies? I enjoy fishing in the pond behind my house. I also have a vegetable garden and enjoy cooking. I keep in shape by swimming regularly.
Tell us about your family: I have a son, a daughter and three grandchildren. My son lives in Burlington and my daughter lives in South Carolina with her three children, ages 8, 13 and 14. My fiancée, Susan Dahl, is a fellow SEANC member, but we didn't realize we were both members until after we were already dating. My father is a SEANC member, too. Both he and my mother, a retired teacher, are in the state retirement system. They rely heavily on their monthly pension checks. They're one of the reasons I'm so passionate about SEANC membership and advocacy.
What is an interesting fact about you that people should know? I built my own home. I already had the land, so I went to Lowes to order a building plan from one of their catalogues, and then got to work. I did a lot of the work myself including the framing, sheetrock, and paneling.