Janet Bunch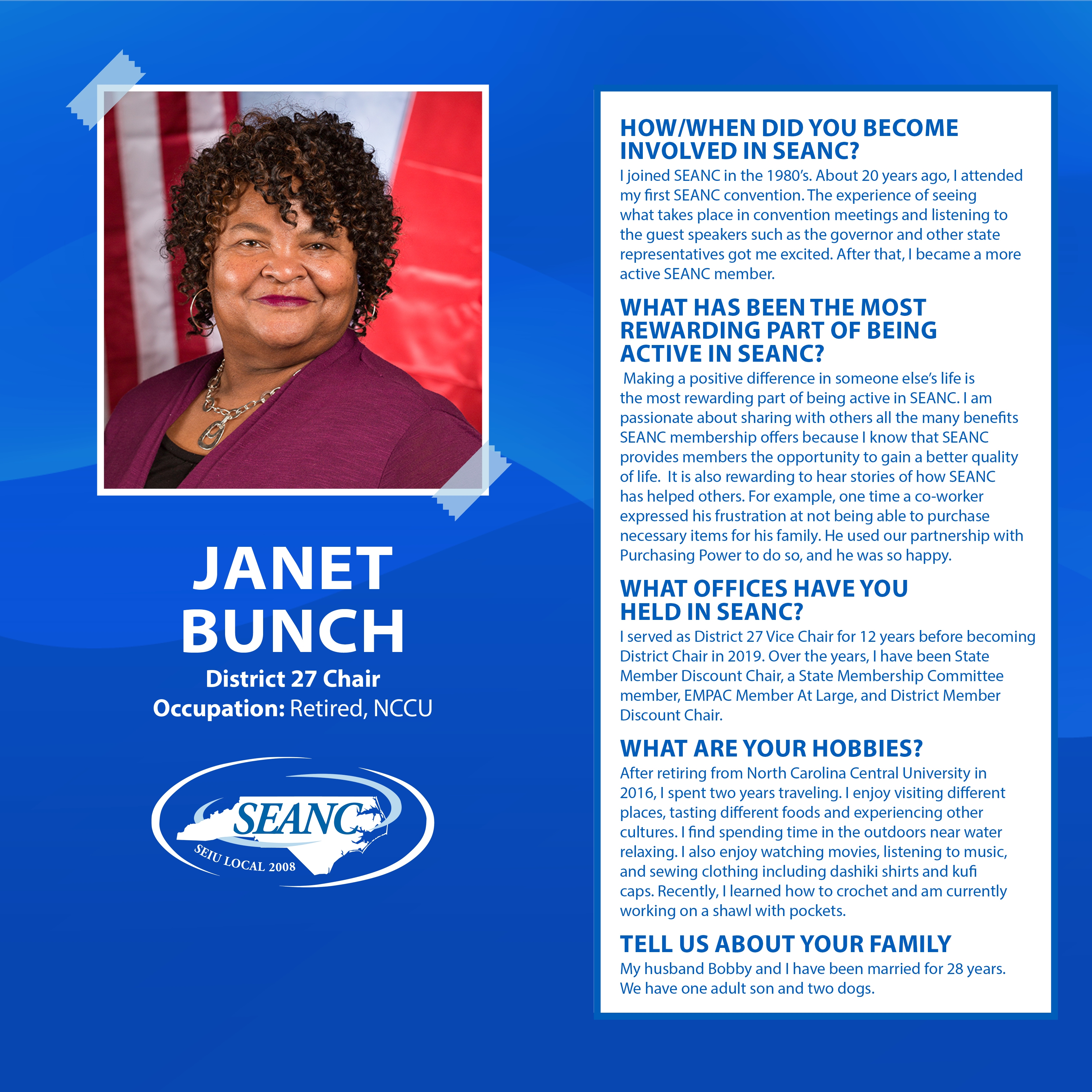 Janet Bunch
District 27 Chair
Occupation: Retired, NCCU
County: Durham
How did you become involved in SEANC? I joined SEANC in the 1980's. About 20 years ago, I attended my first SEANC convention. The experience of seeing what takes place in convention meetings and listening to the guest speakers such as the governor and other state representatives got me excited. After that, I became a more active SEANC member.
What offices have you held in SEANC? I served as District 27 Vice Chair for 12 years before becoming District Chair in 2019. Over the years, I have been State Member Discount Chair, a State Membership Committee member, EMPAC Member At Large, and District Member Discount Chair.
What has been the most rewarding part of being active in SEANC? Making a positive difference in someone else's life is the most rewarding part of being active in SEANC. I am passionate about sharing with others all the many benefits SEANC membership offers because I know that SEANC provides members the opportunity to gain a better quality of life. It is also rewarding to hear stories of how SEANC has helped others. For example, one time a co-worker expressed his frustration at not being able to purchase necessary items for his family. He used our partnership with Purchasing Power to do so, and he was so happy.
What are your hobbies? After retiring from North Carolina Central University in 2016, I spent two years traveling. I enjoy visiting different places, tasting different foods and experiencing other cultures. I find spending time in the outdoors near water relaxing. I also enjoy watching movies, listening to music, and sewing clothing including dashiki shirts and kufi caps. Recently, I learned how to crochet and am currently working on a shawl with pockets.
Tell us about your family: My husband Bobby and I have been married for 28 years. We have one adult son and two dogs.