Henry Belada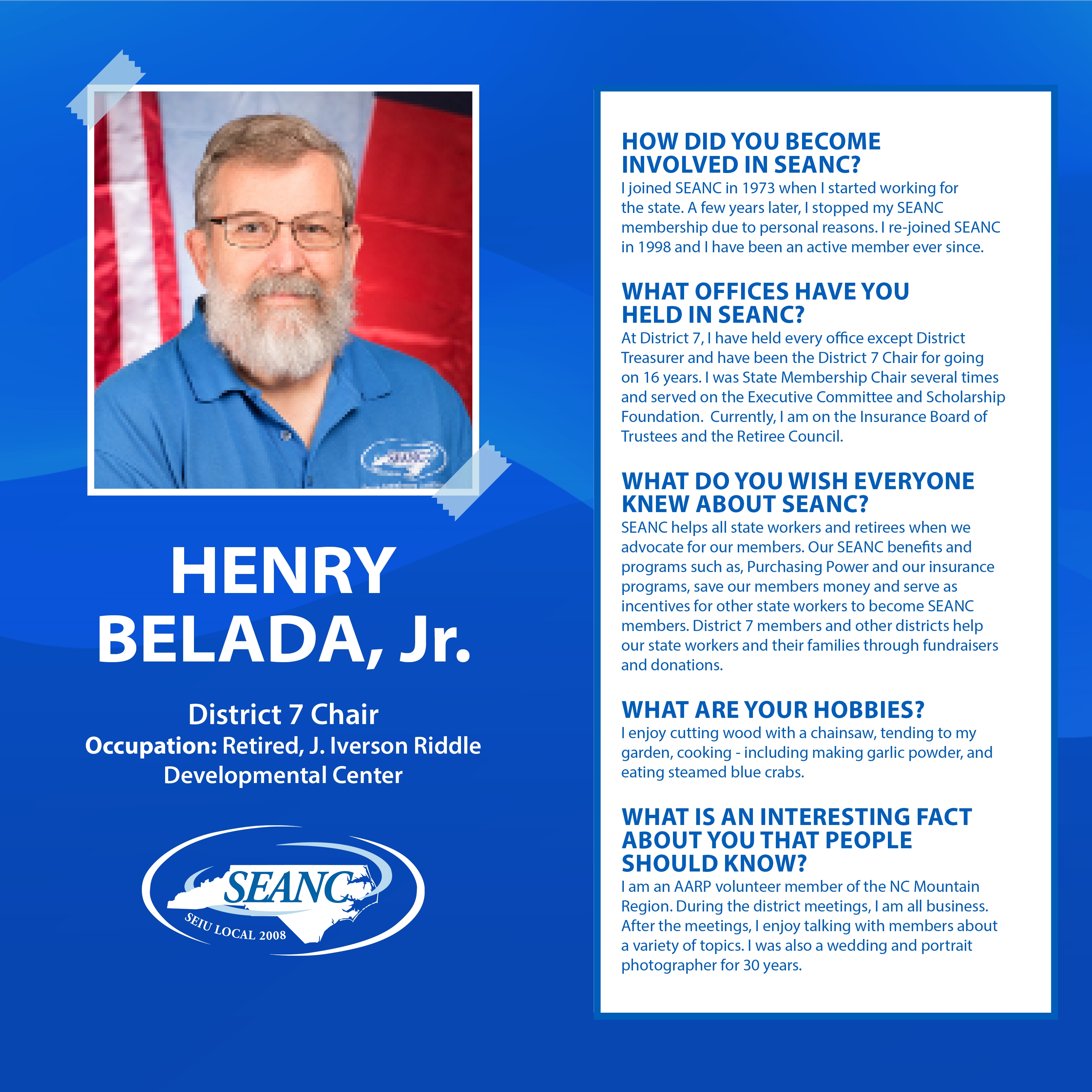 Name: Henry J. Belada, Jr.
District: 7
Occupation: Retired, J. Iverson Riddle Developmental Center
Counties: Burke
How did you become involved in SEANC?
I joined SEANC in 1973 when I started working for the state. A few years later, I stopped my SEANC membership due to personal reasons. I re-joined SEANC in 1998 and I have been an active member ever since.
What offices have you held in SEANC?
At District 7, I have held every office except District Treasurer and have been the District 7 Chair for going on 16 years. I was State Membership Chair several times and served on the Executive Committee and Scholarship Foundation. Currently, I am on the Insurance Board of Trustees and the Retiree Council.
What has been the most rewarding part of being active in SEANC?
It is rewarding knowing there are SEANC members who use their voices to help other members who can't because of their job positions or because of lack of time due to tending to their families. It is gratifying seeing how SEANC members can make a positive difference at state agency worksites.
What do you wish everyone knew about SEANC? SEANC helps all state workers and retirees when we advocate for our members. Our SEANC benefits and programs such as, Purchasing Power and our insurance programs, save our members money and serve as incentives for other state workers to become SEANC members. District 7 members and other districts help our state workers and their families through fundraisers and donations.
What are your hobbies?
I enjoy cutting wood with a chainsaw, tending to my garden, cooking - including making garlic powder, and eating steamed blue crabs.
Tell us about your family: My wife Suzanne and I have been married for 41 years. We have two daughters Emily and Molly, who are both married. Tucker is our new dog.
What is an interesting fact about you that people should know? I am an AARP volunteer member of the NC Mountain Region. During the district meetings, I am all business. After the meetings, I enjoy talking with members about a variety of topics. I was also a wedding and portrait photographer for 30 years.