Flint Benson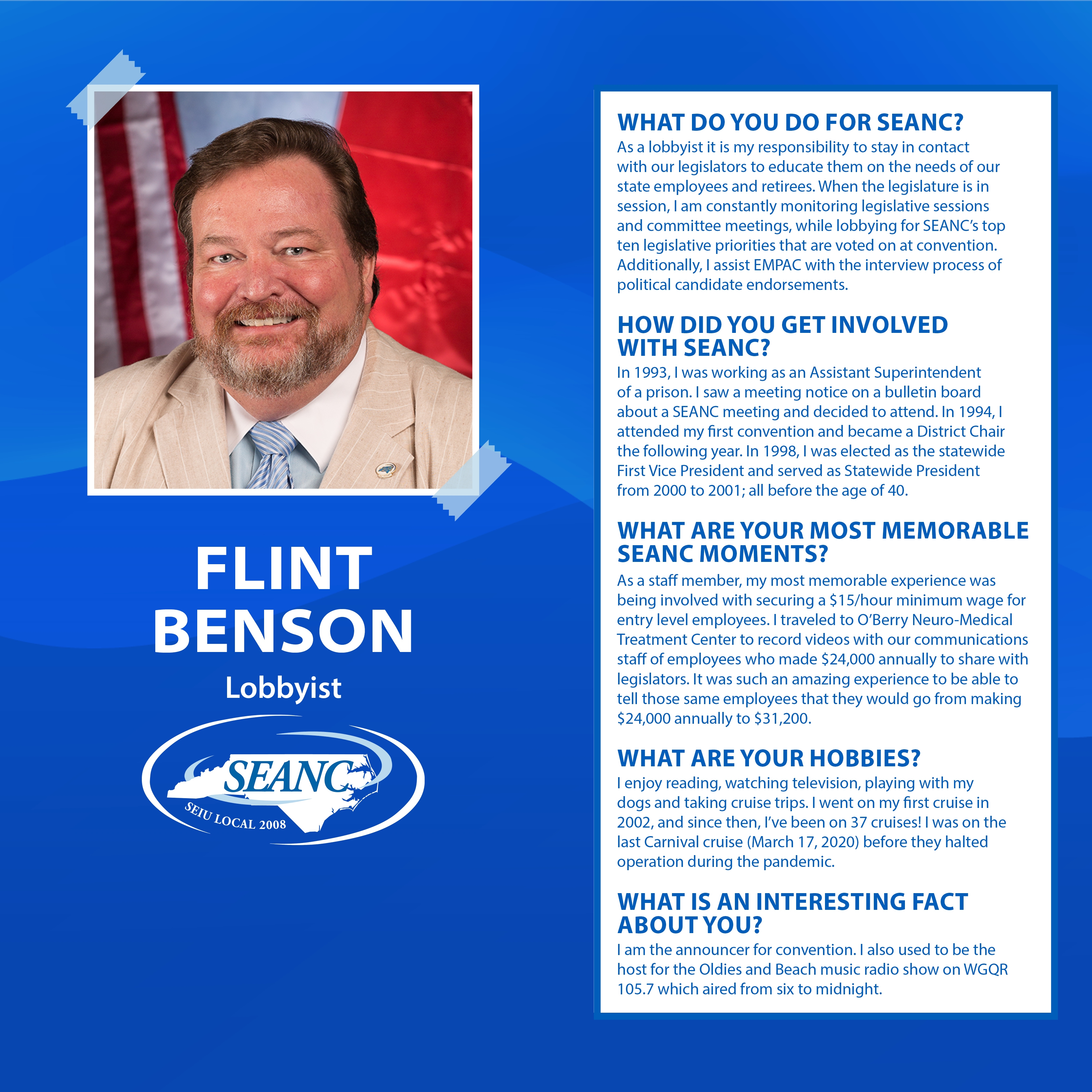 Flint Benson
Lobbyist
What do you do for SEANC? As a lobbyist it is my responsibility to stay in contact with our legislators to educate them on the needs of our state employees and retirees. When the legislature is in session, I am constantly monitoring legislative sessions and committee meetings, while lobbying for SEANC's top ten legislative priorities that are voted on at convention. Additionally, I assist EMPAC with the interview process of political candidate endorsements.
How long have you worked at SEANC? I've been an employee of SEANC for the past 10.5 years. How did you get involved with SEANC? In 1993, I was working as an Assistant Superintendent of a prison. I saw a meeting notice on a bulletin board about a SEANC meeting and decided to attend. In 1994, I attended my first convention and became a District Chair the following year. In 1998, I was elected as the statewide First Vice President and served as Statewide President from 2000 to 2001; all before the age of 40.
What are your most memorable SEANC moments? As a staff member, my most memorable experience was being involved with securing a $15/hour minimum wage for entry level employees. I traveled to O'Berry Neuro-Medical Treatment Center to record videos with our communications staff of employees who made $24,000 annually to share with legislators. It was such an amazing experience to be able to tell those same employees that they would go from making $24,000 annually to $31,200.
My most memorable experience as a member was being instrumental in the removal of bylaws language that prohibited SEANC from affiliation with any union.
Tell us about your family: My wife, Caroline, is from the United Kingdom and is a dual citizen. I have two daughters and four grandchildren. I also have three Basset Hounds.
What are your hobbies? I enjoy reading, watching television, playing with my dogs and taking cruise trips. I went on my first cruise in 2002, and since then, I've been on 37 cruises! I was on the last Carnival cruise (March 17, 2020) before they halted operation during the pandemic.
What is an interesting fact about you? I am the announcer for convention. I also used to be the host for the Oldies and Beach music radio show on WGQR 105.7 which aired from six to midnight.