Evelyn Brown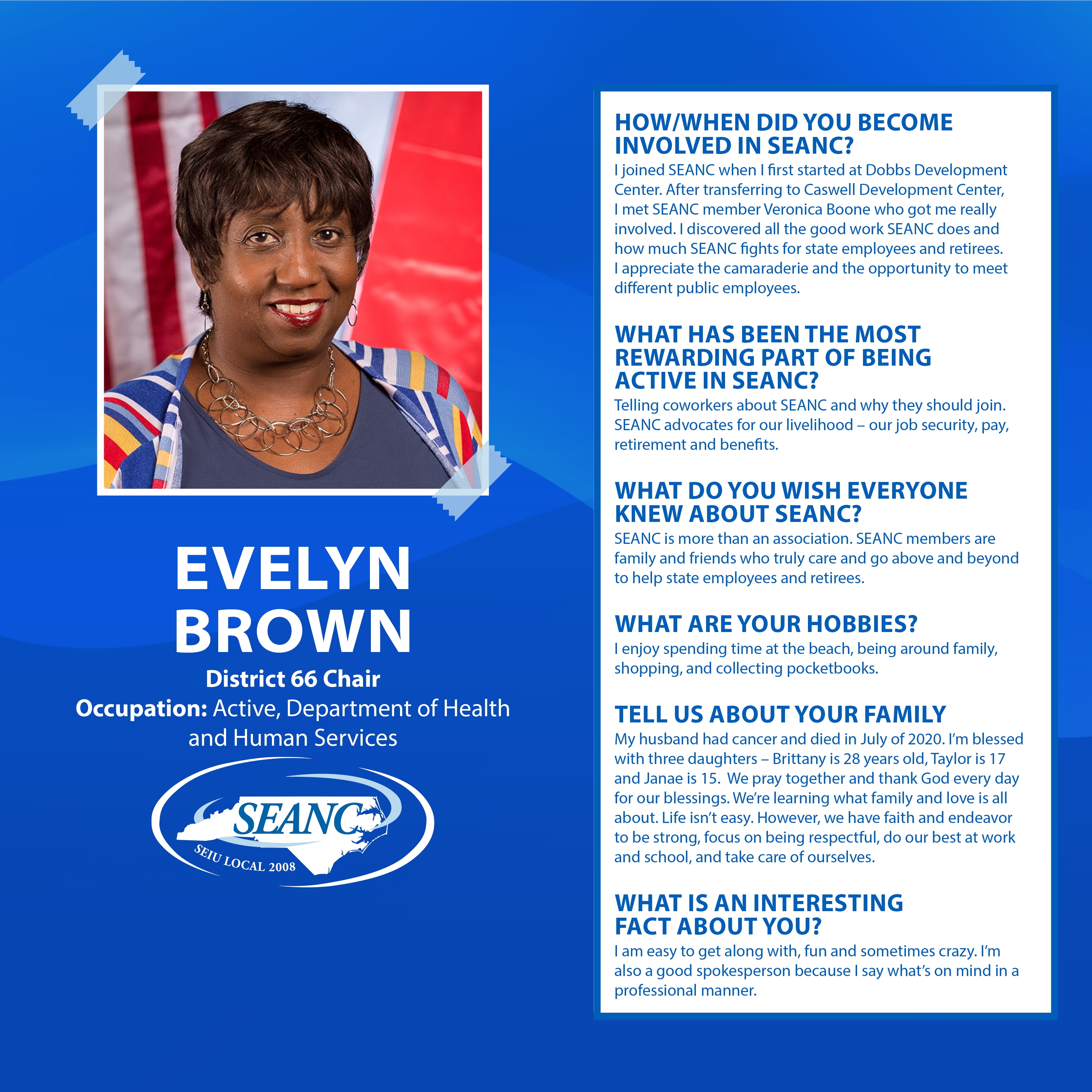 Evelyn Brown Interview by Beth
District 66
Occupation: Active, Department of Health and Human Services
County: Lenoir
Q1: How did you become involved in SEANC? I joined SEANC when I first started at Dobbs Development Center. After transferring to Caswell Development Center, I met SEANC member Veronica Boone who got me really involved. I discovered all the good work SEANC does and how much SEANC fights for state employees and retirees. I appreciate the camaraderie and the opportunity to meet different public employees.
Q2: What offices have you held in SEANC? District Vice Chair, District Chair, District Membership Chair and District Bylaws Chair.
Q3: What has been the most rewarding part of being active in SEANC? Telling coworkers about SEANC and why they should join. SEANC advocates for our livelihood – our job security, pay, retirement and benefits.
Q4: What do you wish everyone knew about SEANC? SEANC is more than an association. SEANC members are family and friends who truly care and go above and beyond to help state employees and retirees.
Q5: What are your hobbies? I enjoy spending time at the beach, being around family, shopping, and collecting pocketbooks.
Q6: Tell us about your family: My husband had cancer and died in July of 2020. I'm blessed with three daughters – Brittany is 28 years old, Taylor is 17 and Janae is 15. We pray together and thank God every day for our blessings. We're learning what family and love is all about. Life isn't easy. However, we have faith and endeavor to be strong, focus on being respectful, do our best at work and school, and take care of ourselves.
Q7: What is an interesting fact about you that people should know? I am easy to get along with, fun and sometimes crazy. I'm also a good spokesperson because I say what's on mind in a professional manner.