Ernest Fleming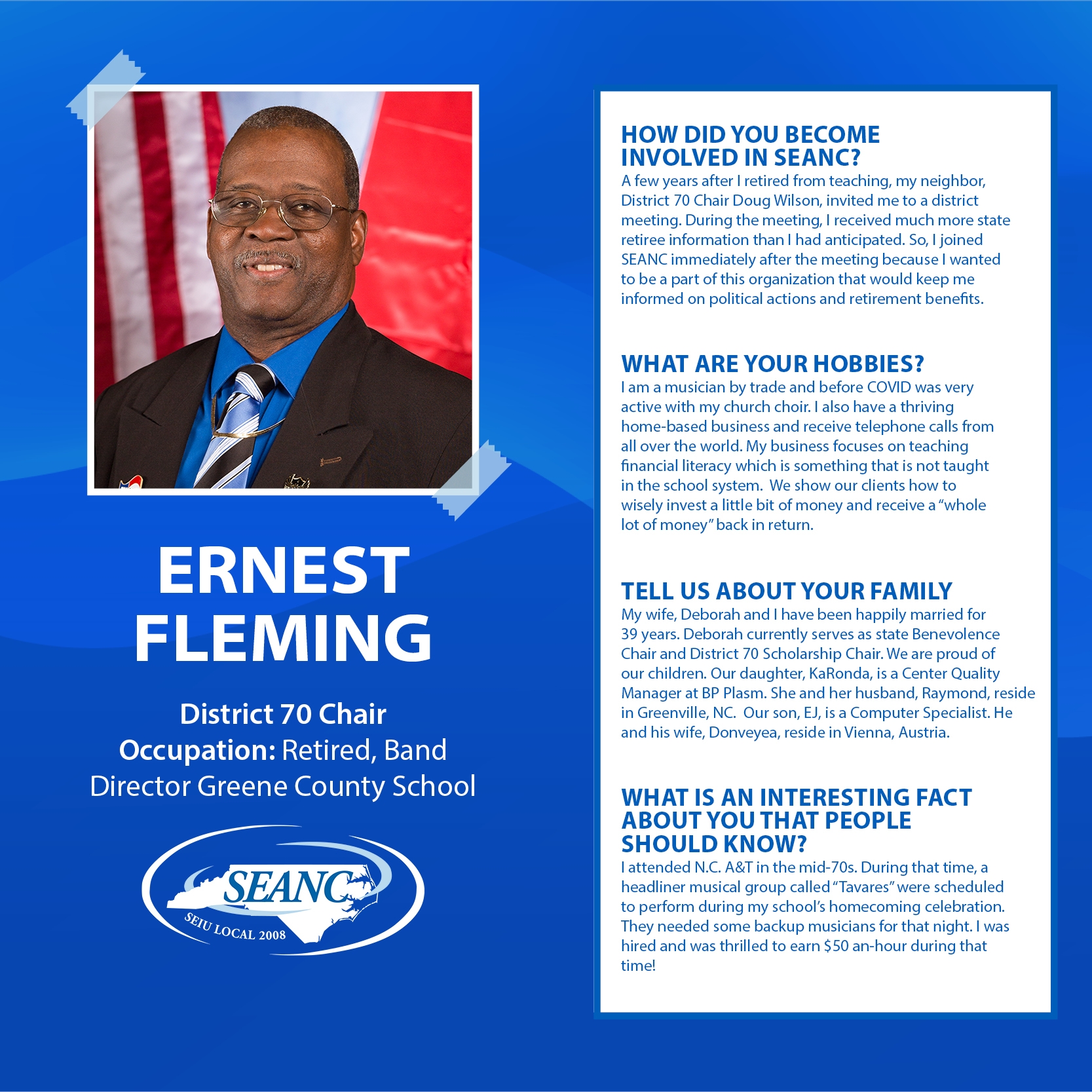 Ernest Fleming
District 70 Chair
Retired, Band Director Greene County School
Lenoir County
How did you become involved in SEANC? A few years after I retired from teaching, my neighbor, District 70 Chair Doug Wilson, invited me to a district meeting. During the meeting, I received much more state retiree information than I had anticipated. So, I joined SEANC immediately after the meeting because I wanted to be a part of this organization that would keep me informed on political actions and retirement benefits.
What offices have you held in SEANC? I am in my third year as District 70 Chair. I also served on the District Policy Platform Committee and as the District Retiree Council Chair.
What has been the most rewarding part of being active in SEANC? I appreciate the way we can get state information. SEANC leaders and staff do a great job year-round getting information out to each district chair and member.
What do you wish everyone knew about SEANC? After becoming a member, I visited as many schools as possible to let them know that SEANC was another viable option to educate them - not just NCAE. SEANC advocates for all state employees and retirees.
What are your hobbies? I am a musician by trade and before COVID was very active with my church choir. I also have a thriving home-based business and receive telephone calls from all over the world. My business focuses on teaching financial literacy which is something that is not taught in the school system. We show our clients how to wisely invest a little bit of money and receive a "whole lot of money" back in return.
Tell us about your family: My wife, Deborah and I have been happily married for 39 years. Deborah currently serves as state Benevolence Chair and District 70 Scholarship Chair. We are proud of our children. Our daughter, KaRonda, is a Center Quality Manager at BP Plasm. She and her husband, Raymond, reside in Greenville, NC. Our son, EJ, is a Computer Specialist. He and his wife, Donveyea, reside in Vienna, Austria.
What is an interesting fact about you that people should know? I attended N.C. A&T in the mid-70s. During that time, a headliner musical group called "Tavares" were scheduled to perform during my school's homecoming celebration. They needed some backup musicians for that night. I was hired and was thrilled to earn $50 an-hour during that time!