Emily Jones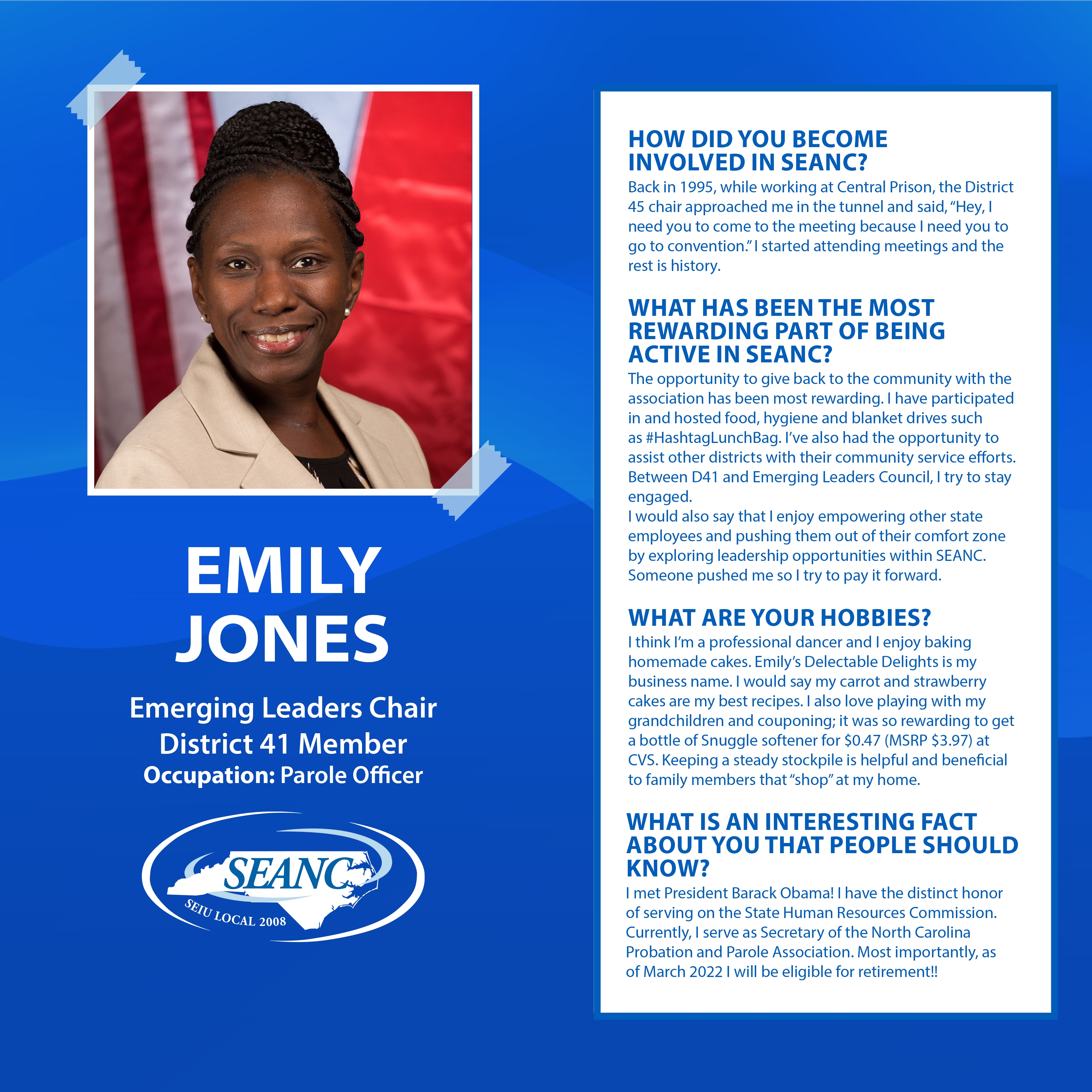 Emily Jones

District 41 member Interview by Amanda
Emerging Leaders Chair
Occupation: Parole Officer
How did you become involved in SEANC? Back in 1995, while working at Central Prison, the District 45 chair approached me in the tunnel and said, "Hey, I need you to come to the meeting because I need you to go to convention." I started attending meetings and the rest is history.
What offices have you held in SEANC? I previously served on the Member Discount committee and as Youth Council Chair, which has evolved into Emerging Leaders.
What has been the most rewarding part of being active in SEANC? The opportunity to give back to the community with the association has been most rewarding. I have participated in and hosted food, hygiene and blanket drives such as #HashtagLunchBag. I've also had the opportunity to assist other districts with their community service efforts. Between D41 and Emerging Leaders Council, I try to stay engaged.
I would also say that I enjoy empowering other state employees and pushing them out of their comfort zone by exploring leadership opportunities within SEANC. Someone pushed me so I try to pay it forward.
What do you wish everyone knew about SEANC? People need to know and remember that we are a member-driven organization. No one man or woman controls every decision made by SEANC. While we have a hard-working lobbying team who advocates on our behalf, at the legislature, we must understand that we will win some and lose some. If the organizational effort does not yield the result you may desire it certainly is not due to the lack of diligent effort.
What are your hobbies? I think I'm a professional dancer and I enjoy baking homemade cakes. Emily's Delectable Delights is my business name. I would say my carrot and strawberry cakes are my best recipes. I also love playing with my grandchildren and couponing; it was so rewarding to get a bottle of Snuggle softener for $0.47 (MSRP $3.97) at CVS. Keeping a steady stockpile is helpful and beneficial to family members that "shop" at my home.
Tell us about your family: My husband and I have a blended family which includes four daughters and seven grandchildren. My oldest biological daughter Adorya and her husband, JT, have two daughters and my youngest, Mikayla, recently graduated from Winston-Salem State University. GO RAMS!!! Allyssa and Tynesha live in New Jersey with the other five grandchildren.
What is an interesting fact about you that people should know? I met President Barack Obama! I have the distinct honor of serving on the State Human Resources Commission. Currently, I serve as Secretary of the North Carolina Probation and Parole Association. Most importantly, as of March 2022 I will be eligible for retirement!!