DuBoris Peterkin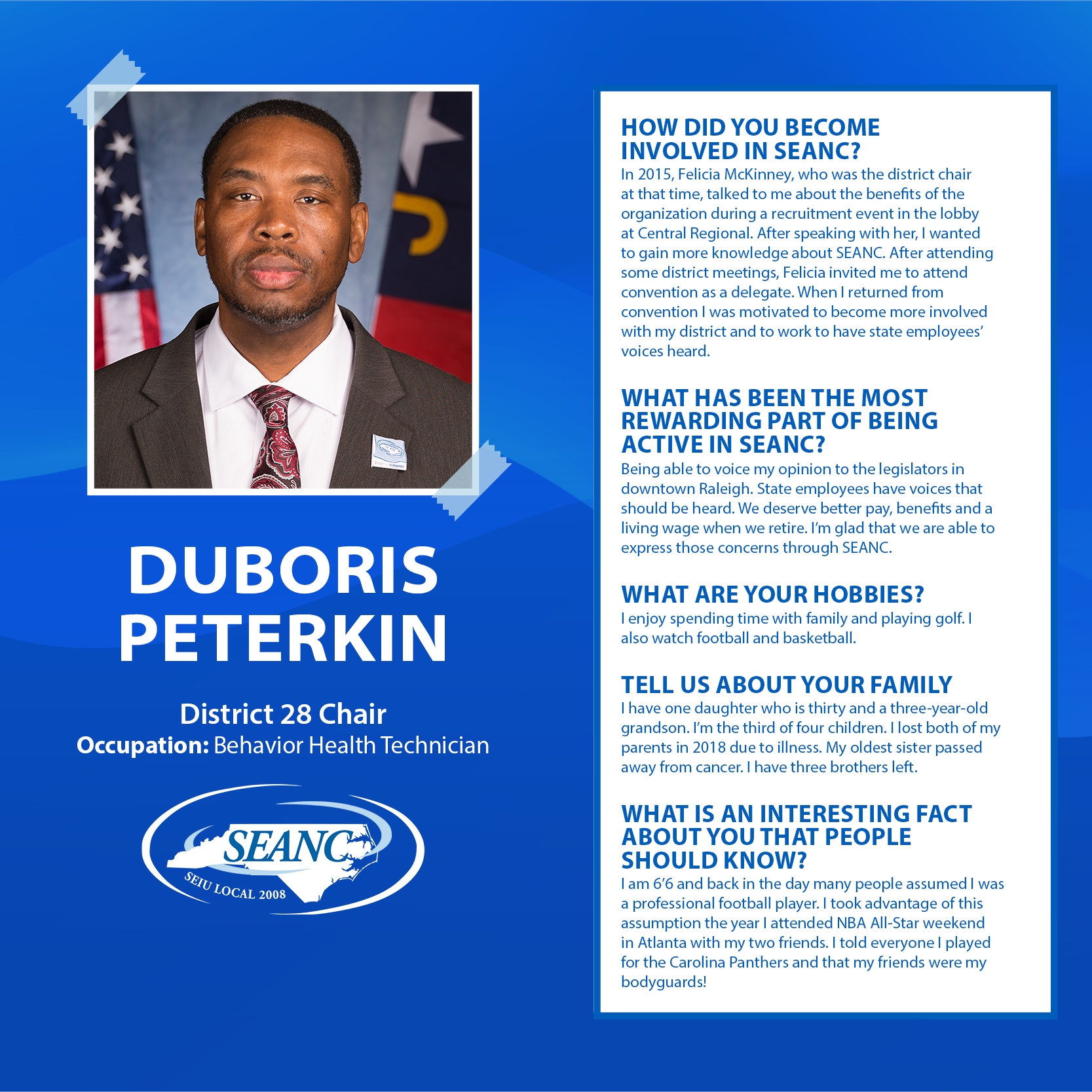 DuBoris Peterkin
District 28
Occupation: Behavior Health Technician, 7 years.
County: Granville
How did you become involved in SEANC? In 2015, Felicia McKinney, who was the district chair at that time, talked to me about the benefits of the organization during a recruitment event in the lobby at Central Regional. After speaking with her, I wanted to gain more knowledge about SEANC. After attending some district meetings, Felicia invited me to attend convention as a delegate. When I returned from convention I was motivated to become more involved with my district and to work to have state employees' voices heard.
What offices have you held in SEANC? District chair and member of the DHHS and Scholarship committees.
What has been the most rewarding part of being active in SEANC? Being able to voice my opinion to the legislators in downtown Raleigh. State employees have voices that should be heard. We deserve better pay, benefits and a living wage when we retire. I'm glad that we are able to express those concerns through SEANC.
What do you wish everyone knew about SEANC? I wish everyone understood the real purpose of SEANC. I hear people talk junk about the organization and I always tell them to get involved and formulate their own opinions. SEANC really cares about state employees and is doing the work for them.
What are your hobbies? I enjoy spending time with family and playing golf. I also watch football and basketball.
Tell us about your family: I have one daughter who is thirty and a three-year-old grandson. I'm the third of four children. I lost both of my parents in 2018 due to illness. My oldest sister passed away from cancer. I have three brothers left.
What is an interesting fact about you that people should know?
I am 6'6 and back in the day many people assumed I was a professional football player. I took advantage of this assumption the year I attended NBA All-Star weekend in Atlanta with my two friends. I told everyone I played for the Carolina Panthers and that my friends were my bodyguards!