Cynthia Hart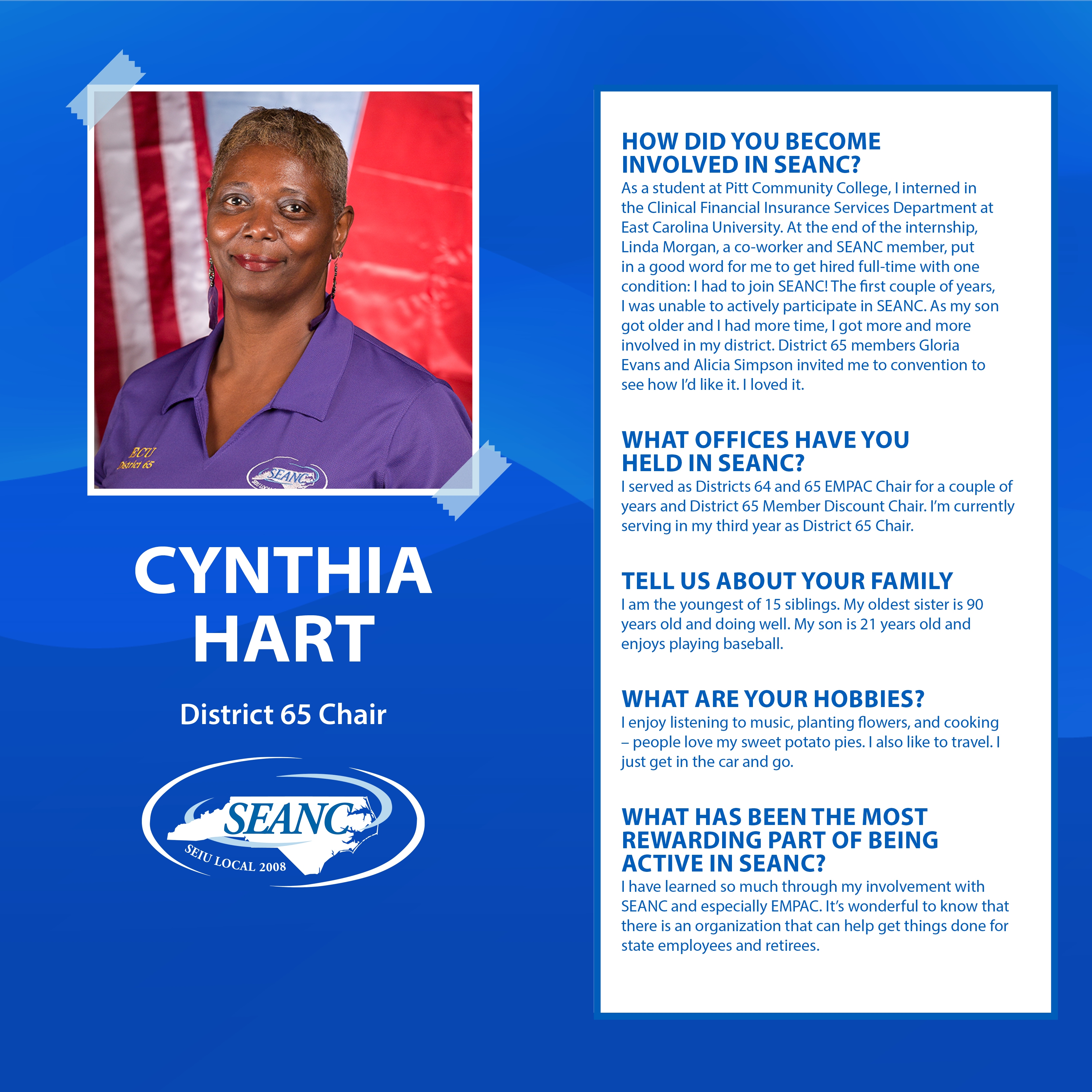 Cynthia Hart District 65 Chair
Counties: Pitt - East Carolina University
How did you become involved in SEANC? As a student at Pitt Community College, I interned in the Clinical Financial Insurance Services Department at East Carolina University. At the end of the internship, Linda Morgan, a co-worker and SEANC member, put in a good word for me to get hired full-time with one condition: I had to join SEANC! The first couple of years, I was unable to actively participate in SEANC. As my son got older and I had more time, I got more and more involved in my district. District 65 members Gloria Evans and Alicia Simpson invited me to convention to see how I'd like it. I loved it.
What offices have you held in SEANC? I served as Districts 64 and 65 EMPAC Chair for a couple of years and District 65 Member Discount Chair. I'm currently serving in my third year as District 65 Chair.
What has been the most rewarding part of being active in SEANC? I have learned so much through my involvement with SEANC and especially EMPAC. It's wonderful to know that there is an organization that can help get things done for state employees and retirees.
What do you wish everyone knew about SEANC? I wish everyone understood all that SEANC does for state employees and retirees. SEANC has helped keep insurance and benefits rates down. And, look at the raise to $15 minimum wage for most state workers!
What are your hobbies? I enjoy listening to music, planting flowers, and cooking – people love my sweet potato pies. I also like to travel. I just get in the car and go.
Tell us about your family: I am the youngest of 15 siblings. My oldest sister is 90 years old and doing well. My son is 21 years old and enjoys playing baseball.