Cindy Hester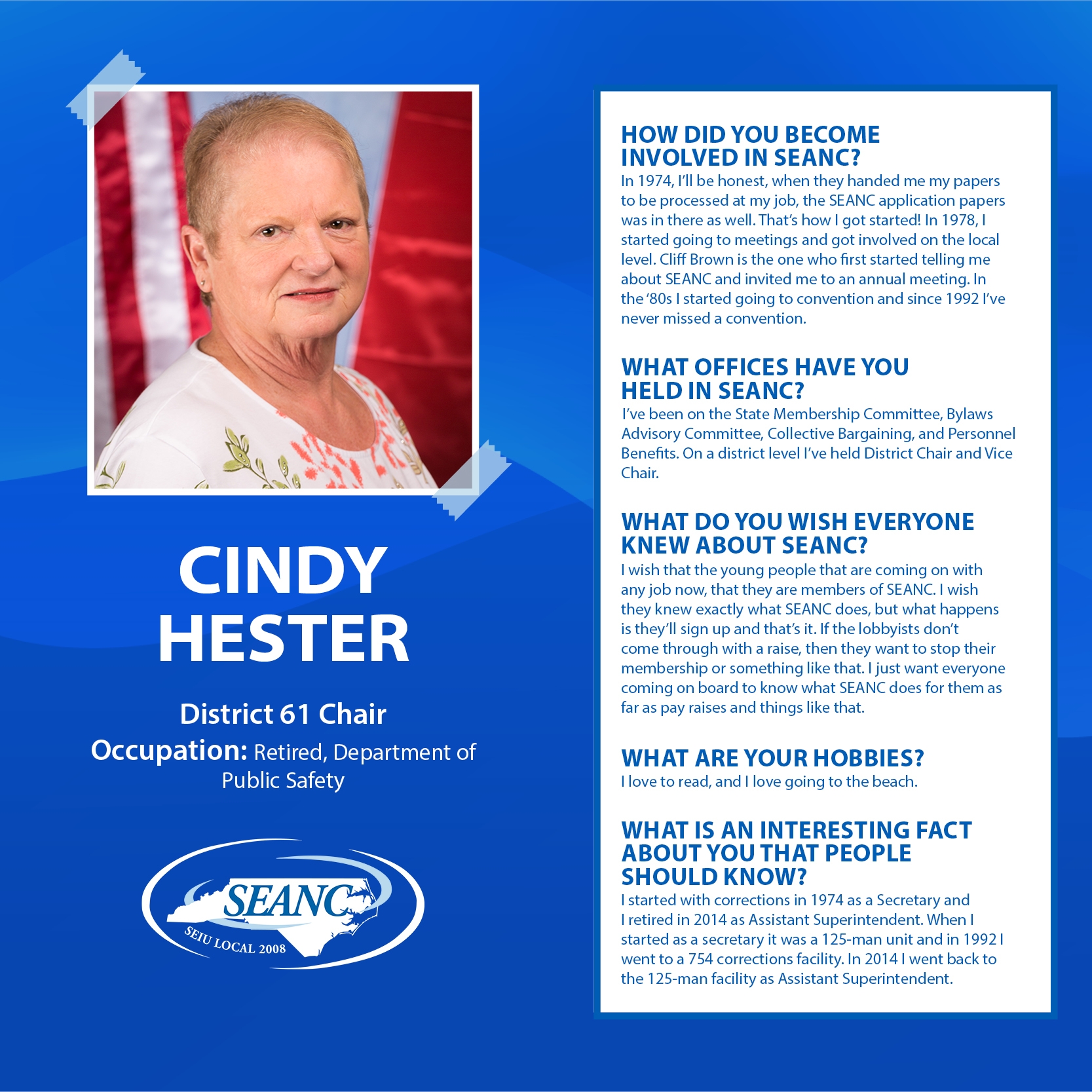 Cindy Hester
District 61 Chair
Occupation: Retired, Department of Public Safety

How did you become involved in SEANC?
In 1974, I'll be honest, when they handed me my papers to be processed at my job, the SEANC application papers was in there as well. That's how I got started! In 1978, I started going to meetings and got involved on the local level. Cliff Brown is the one who first started telling me about SEANC and invited me to an annual meeting. In the '80s I started going to convention and since 1992 I've never missed a convention.
What offices have you held in SEANC?
I've been on the State Membership Committee, Bylaws Advisory Committee, Collective Bargaining, and Personnel Benefits. On a district level I've held District Chair and Vice Chair.
What has been the most rewarding part of being active in SEANC?
I feel what the lobbyist can do as far as raises and getting things like that for the employees, that is the most rewarding thing. Because that's the most important thing, that the employees are not looked over by the government. We must have people sitting in the legislation fighting for raises for state employees and retirees.
What do you wish everyone knew about SEANC?
I wish that the young people that are coming on with any job now, that they are members of SEANC. I wish they knew exactly what SEANC does, but what happens is they'll sign up and that's it. If the lobbyists don't come through with a raise, then they want to stop their membership or something like that. I just want everyone coming on board to know what SEANC does for them as far as pay raises and things like that.
What are your hobbies?
I love to read, and I love going to the beach.
Tell us about your family:
I'm an only child.
What is an interesting fact about you that people should know?
I started with corrections in 1974 as a Secretary and I retired in 2014 as Assistant Superintendent. When I started as a secretary it was a 125-man unit and in 1992 I went to a 754 corrections facility. In 2014 I went back to the 125-man facility as Assistant Superintendent.