Byron Carter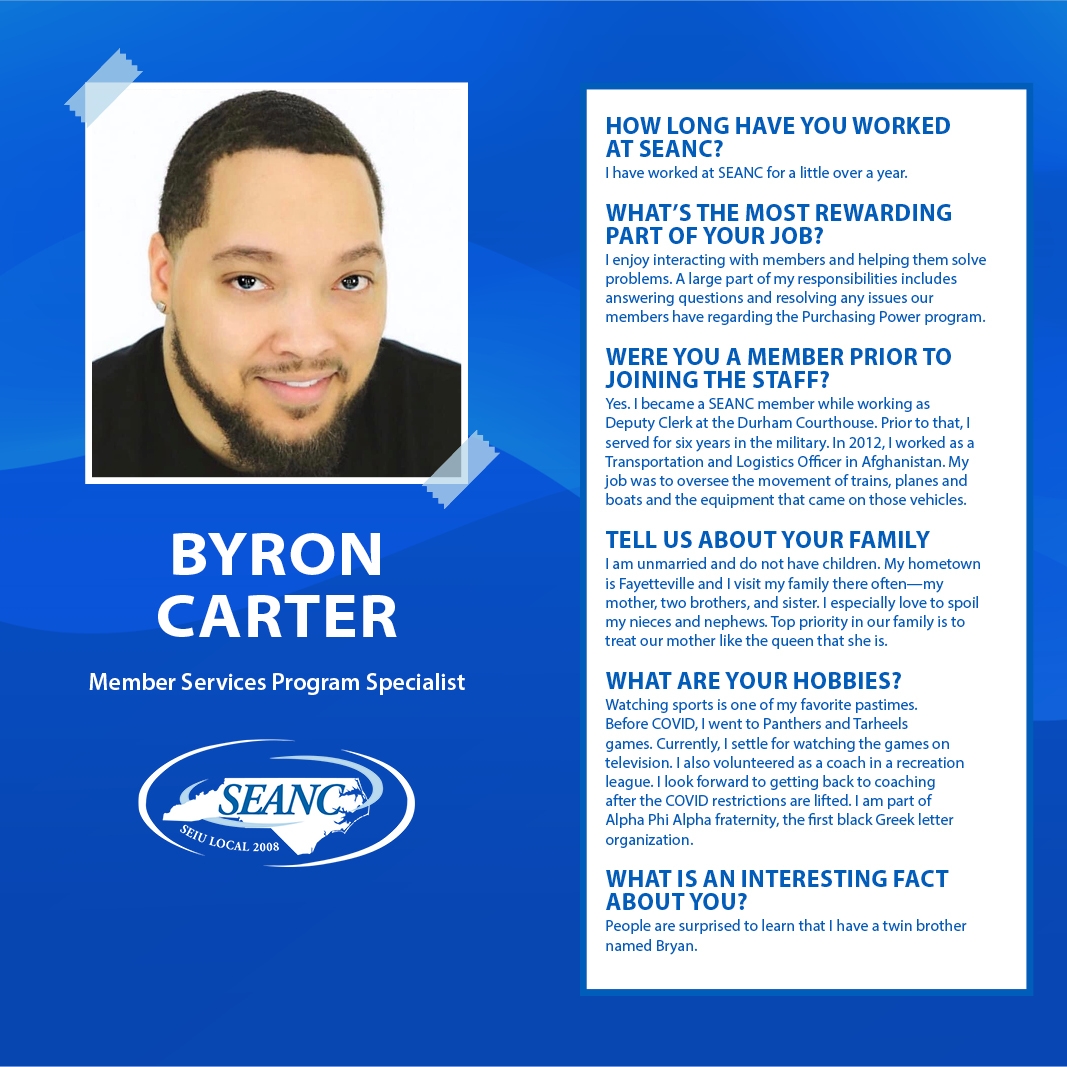 Byron Carter
Member Services Program Specialist
Q1: How long have you worked at SEANC? I have worked at SEANC for a little over a year.
Q2: What's the most rewarding part of your job? I enjoy interacting with members and helping them solve problems. A large part of my responsibilities includes answering questions and resolving any issues our members have regarding the Purchasing Power program.
Q3: Were you a member prior to joining the staff? Yes. I became a SEANC member while working as Deputy Clerk at the Durham Courthouse. Prior to that, I served for six years in the military. In 2012, I worked as a Transportation and Logistics Officer in Afghanistan. My job was to oversee the movement of trains, planes and boats and the equipment that came on those vehicles.
Q4: Tell us about your family: I am unmarried and do not have children. My hometown is Fayetteville and I visit my family there often—my mother, two brothers, and sister. I especially love to spoil my nieces and nephews. Top priority in our family is to treat our mother like the queen that she is.
Q5: What are your hobbies? Watching sports is one of my favorite pastimes. Before COVID, I went to Panthers and Tarheels games. Currently, I settle for watching the games on television. I also volunteered as a coach in a recreation league. I look forward to getting back to coaching after the COVID restrictions are lifted. I am part of Alpha Phi Alpha fraternity, the first black Greek letter organization.
Q6: What is an interesting fact about you that people should know? People are surprised to learn that I have a twin brother named Bryan.