B.K. Garrett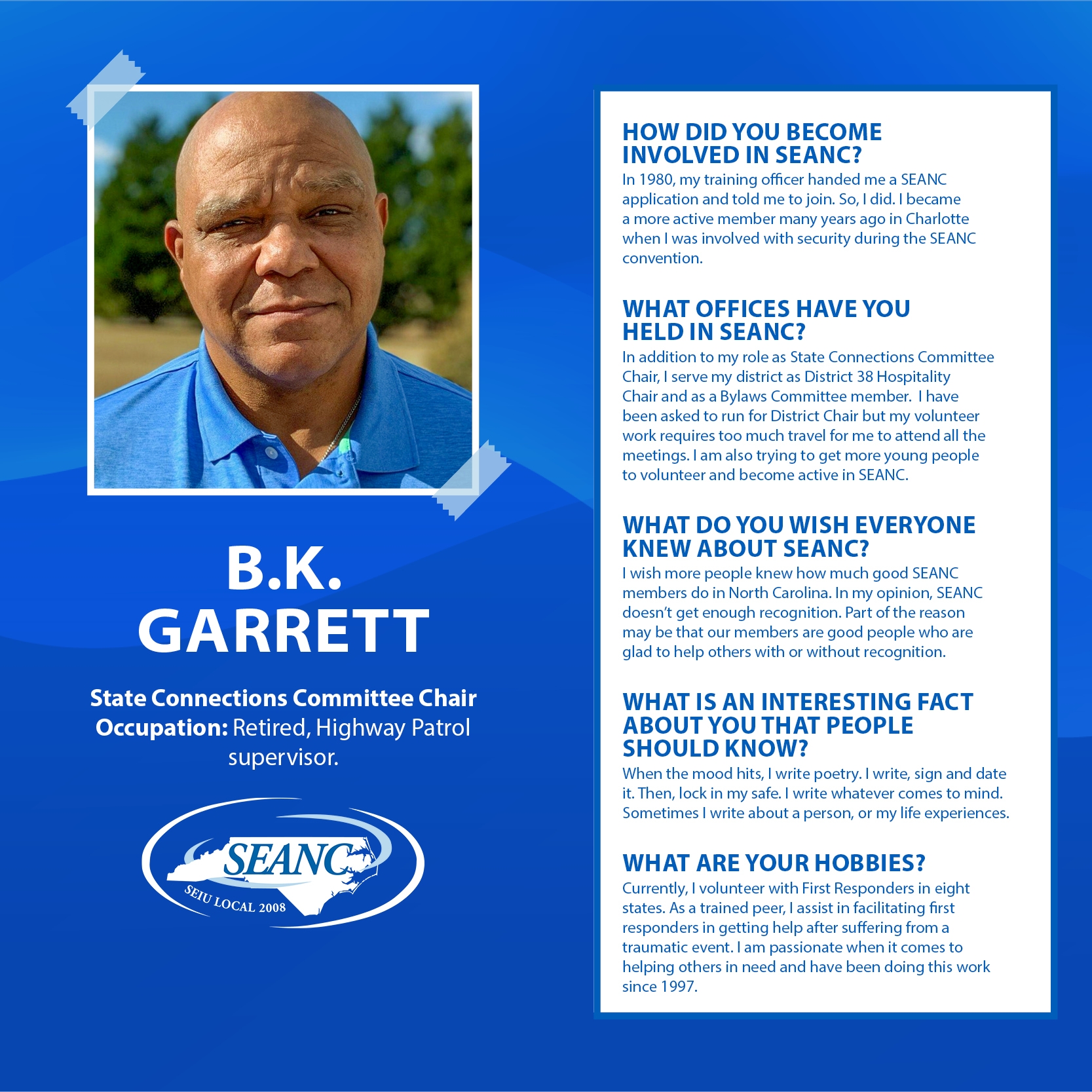 B.K. Garrett
District 38 member
Connections Committee Chair
Occupation: Retired, Highway Patrol
Q1: How did you become involved in SEANC? In 1980, my training officer handed me a SEANC application and told me to join. So, I did. I became a more active member many years ago in Charlotte when I was involved with security during the SEANC convention.
Q2: What offices have you held in SEANC? In addition to my role as State Connections Committee Chair, I serve my district as District 38 Hospitality Chair and as a Bylaws Committee member. I have been asked to run for District Chair but my volunteer work requires too much travel for me to attend all the meetings. I am also trying to get more young people to volunteer and become active in SEANC.
Q3: What has been the most rewarding part of being active in SEANC? The ability, on behalf of SEANC, to assist members with resources or financial assistance after suffering great losses is rewarding.
Q4: What do you wish everyone knew about SEANC? I wish more people knew how much good SEANC members do in North Carolina. In my opinion, SEANC doesn't get enough recognition. Part of the reason may be that our members are good people who are glad to help others with or without recognition.
Q5: What are your hobbies? Currently, I volunteer with First Responders in eight states. As a trained peer, I assist in facilitating first responders in getting help after suffering from a traumatic event. I am passionate when it comes to helping others in need and have been doing this work since 1997.
Tell us about your family: I have a daughter who teaches at North Carolina Central University and my son works for a management team in Raleigh. I love the outdoors and we enjoy target shooting, fishing and kayaking together.
What is an interesting fact about you that people should know? When the mood hits, I write poetry. I write, sign and date it. Then, lock in my safe. I write whatever comes to mind. Sometimes I write about a person, or my life experiences.