Benny Brigman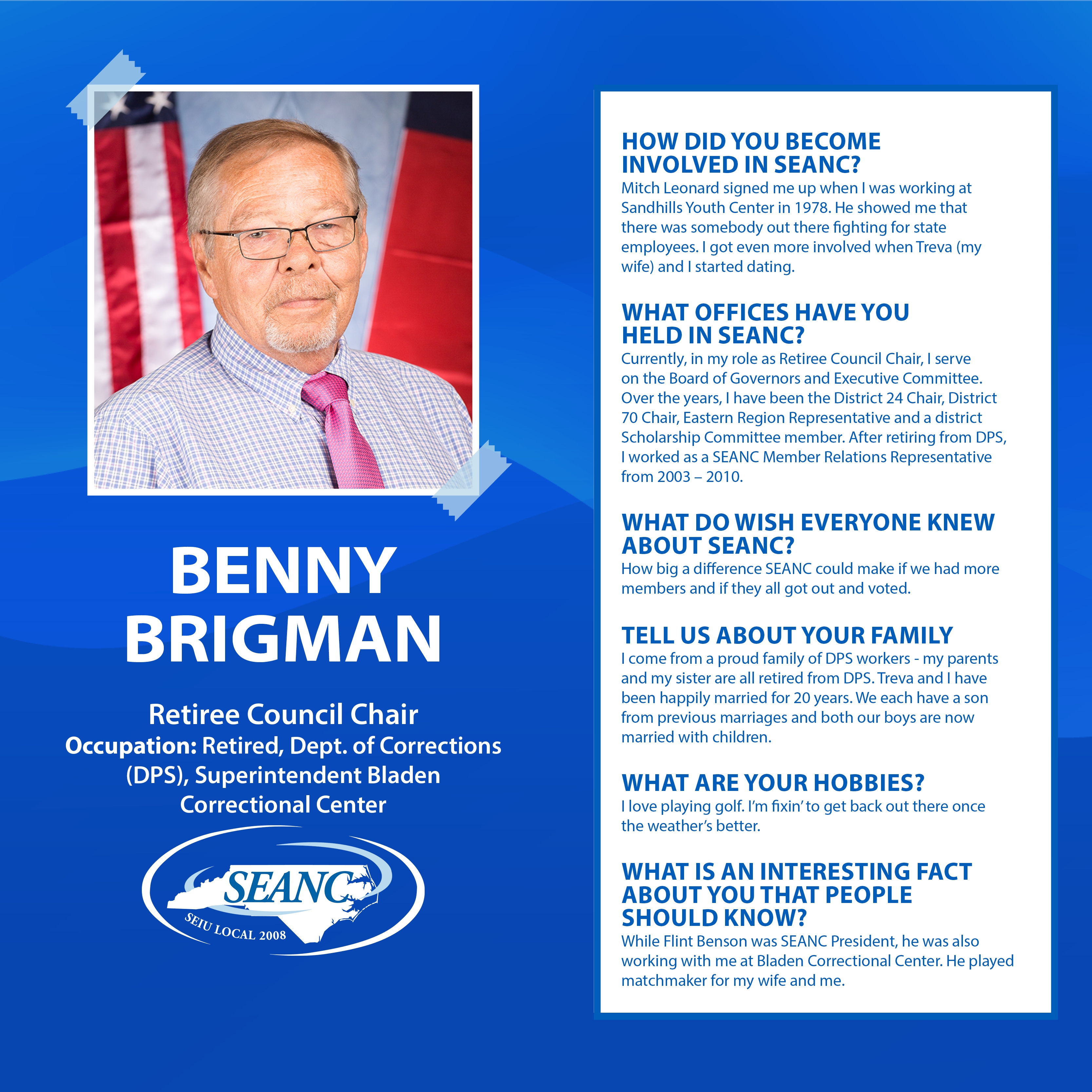 Benny Brigman
Executive Committee, Retiree Council Chair
District 58 Member
Occupation: Retired, Dept. of Corrections (DPS), Superintendent Bladen Correctional Center
How/when did you become involved in SEANC? Mitch Leonard signed me up when I was working at Sandhills Youth Center in 1978. He showed me that there was somebody out there fighting for state employees. I got even more involved when Treva (my wife) and I started dating.
What offices have you held in SEANC? Currently, in my role as Retiree Council Chair, I serve on the Board of Governors and Executive Committee. Over the years, I have been the District 24 Chair, District 70 Chair, Eastern Region Representative and a district Scholarship Committee member. After retiring from DPS, I worked as a SEANC Member Relations Representative from 2003 – 2010.
What has been the most rewarding part of being active in SEANC? SEANC was a great place to work. We have great leadership and SEANC is doing great things from one end of the state to the other. The staff truly believes in what they're doing and what the organization stands for. I remember going with a SEANC group to meet with the state legislators. I was impressed with the work SEANC staff does and how well they're received at the legislature. It's taken many years of hard work and dedication to establish that kind of relationship. Now that I'm no longer a SEANC employee, I really enjoy serving on the Retiree Council.
What do you wish everyone knew about SEANC? How big a difference SEANC could make if we had more members and if they all got out and voted.
What are your hobbies? I love playing golf. I'm fixin' to get back out there once the weather's better.
Tell us about your family: I come from a proud family of DPS workers - my parents and my sister are all retired from DPS. Treva and I have been happily married for 20 years. We each have a son from previous marriages and both our boys are now married with children.
Fun Fact: While Flint Benson was SEANC President, he was also working with me at Bladen Correctional Center. He played matchmaker for Treva and me.