Autumn Creech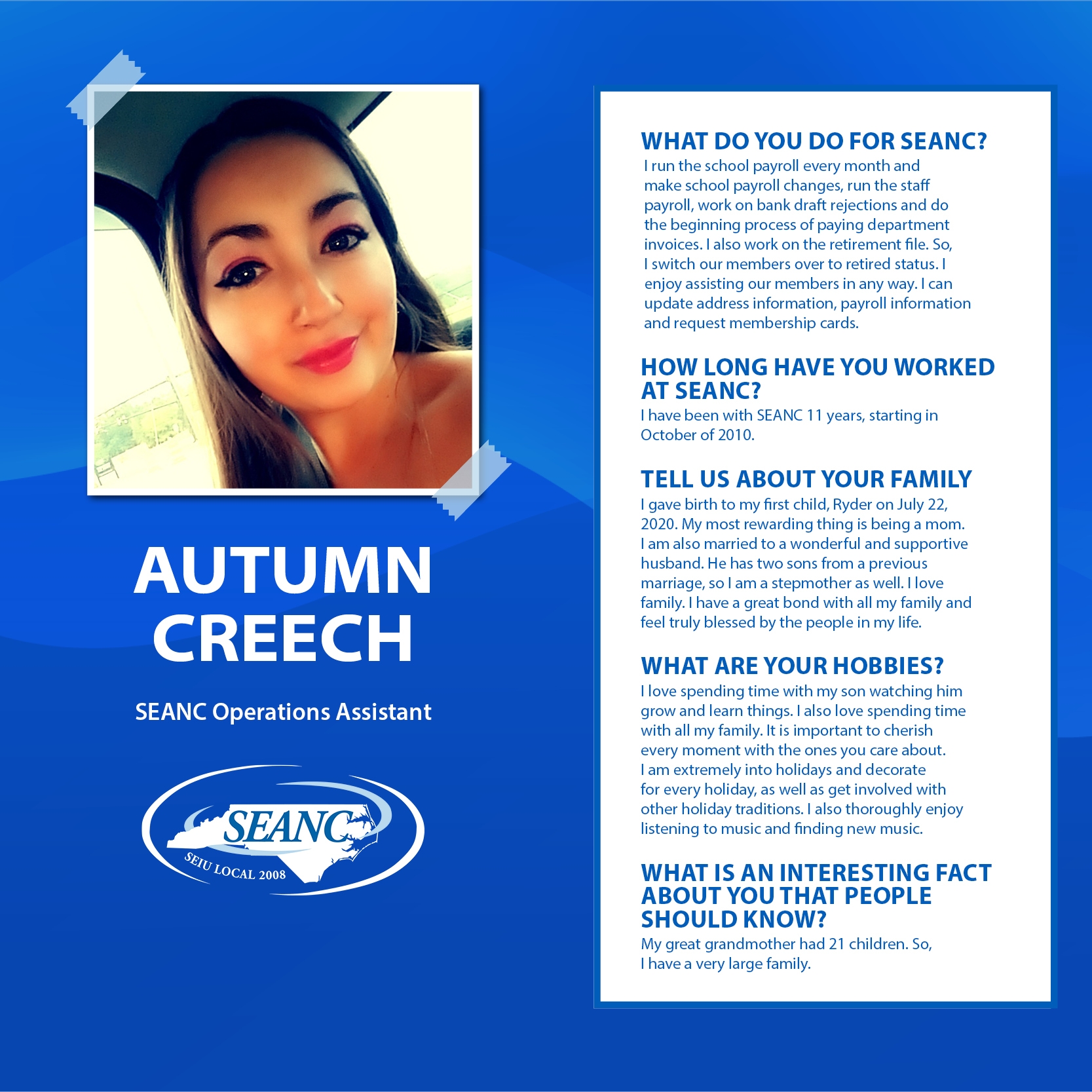 Autumn Creech
SEANC Operations Assistant
Q1: What do you do for SEANC? I run the school payroll every month and make school payroll changes, run the staff payroll, work on bank draft rejections and do the beginning process of paying department invoices. I also work on the retirement file. So, I switch our members over to retired status. I enjoy assisting our members in any way. I can update address information, payroll information and request membership cards.
Q2: How long have you worked at SEANC? I have been with SEANC 11 years, starting in October of 2010.
Q3: What's the most rewarding part of your job? It is rewarding assisting a member to the best of my ability. It truly makes my heart feel good when a member feels like their question or request was taken care of successfully.
Q4: Tell us about your family: I gave birth to my first child, Ryder on July 22, 2020. My most rewarding thing is being a mom. I am also married to a wonderful and supportive husband. He has two sons from a previous marriage, so I am a stepmother as well. I love family. I have a great bond with all my family and feel truly blessed by the people in my life.
Q5: What are your hobbies? I love spending time with my son watching him grow and learn things. I also love spending time with all my family. It is important to cherish every moment with the ones you care about. I am extremely into holidays and decorate for every holiday, as well as get involved with other holiday traditions. I also thoroughly enjoy listening to music and finding new music.
Q6: What is an interesting fact about you that people should know? My great grandmother had 21 children. So, I have a very large family.