Tonya Jennings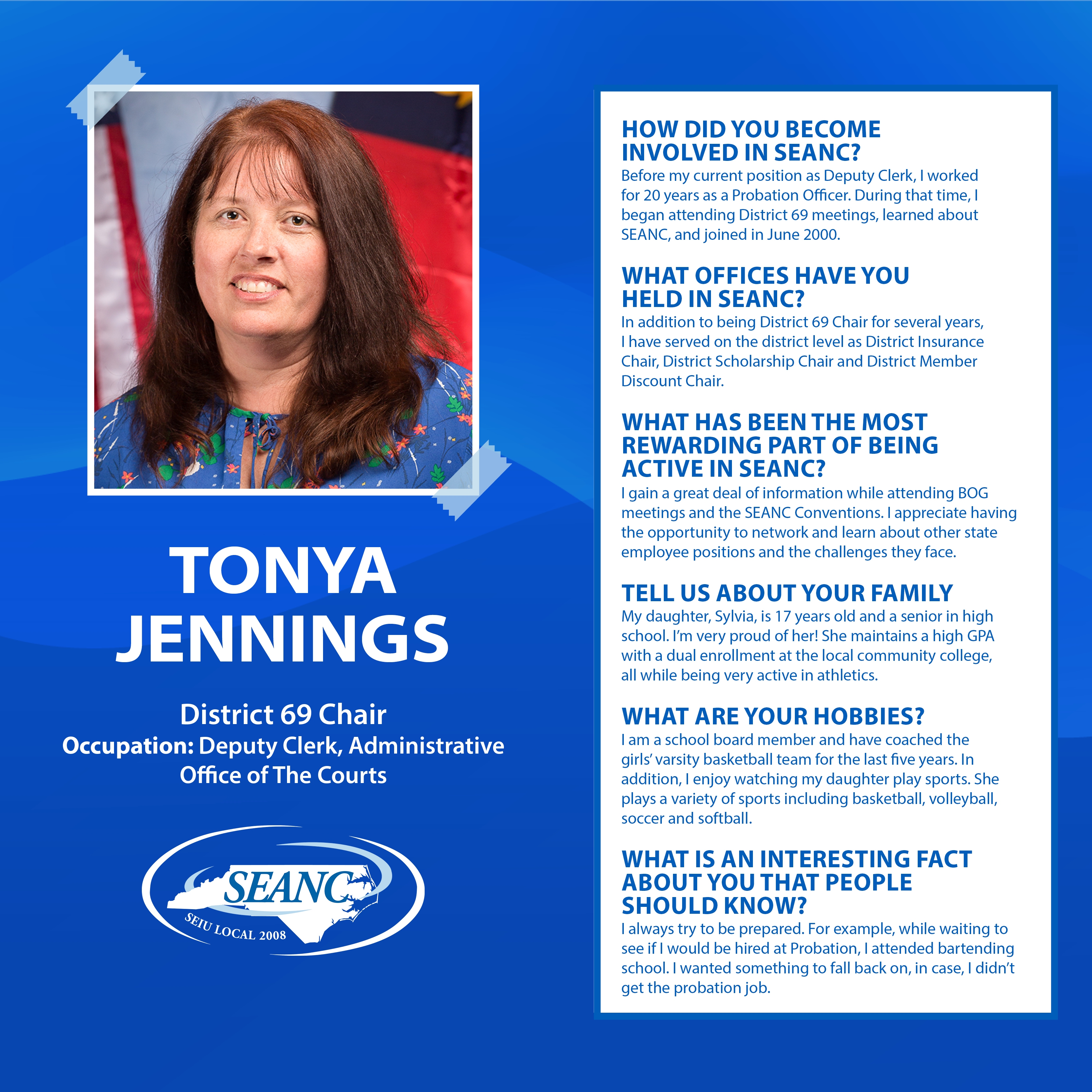 Tonya Jennings
District 69 Chairperson
Occupation: Deputy Clerk, Administrative Office of The Courts
District 65 Counties: Camden, Chowan, Currituck, Gates, Pasquotank and Perquimans
How did you become involved in SEANC? Before my current position as Deputy Clerk, I worked for 20 years as a Probation Officer. During that time, I began attending District 69 meetings, learned about SEANC, and joined in June 2000.
What offices have you held in SEANC? In addition to being District 69 Chair for several years, I have served on the district level as District Insurance Chair, District Scholarship Chair and District Member Discount Chair.
What has been the most rewarding part of being active in SEANC? I gain a great deal of information while attending BOG meetings and the SEANC Conventions. I appreciate having the opportunity to network and learn about other state employee positions and the challenges they face.
What do you wish everyone knew about SEANC? I wish more state employees and retirees realized the many benefits SEANC membership provides. Often, state employees, state retirees and even some SEANC members focus only on whether they get a yearly pay raise. I don't think people truly appreciate the fact that SEANC provides full-time lobbyists who advocate for them regarding many important issues all year long, such as, job longevity and state insurance benefits.
What are your hobbies? I am a school board member and have coached the girls' varsity basketball team for the last five years. In addition, I enjoy watching my daughter play sports. She plays a variety of sports including basketball, volleyball, soccer and softball.
Tell us about your family: My daughter, Sylvia, is 17 years old and a senior in high school. I'm very proud of her! She maintains a high GPA with a dual enrollment at the local community college, all while being very active in athletics.
What is an interesting fact about you that people should know? I always try to be prepared. For example, while waiting to see if I would be hired at Probation, I attended bartending school. I wanted something to fall back on, in case, I didn't get the probation job.